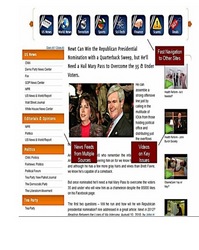 PLAYBOOK) is a last minute Valentine gift that's perfect for the older guy in your life. Whether he's a boomer or retiree, the PLAYBOOK delivers concise news and reports to give a
Sarasota, FL (PRWEB) February 10, 2011
The secondhalfPLAYBOOK.com ("PLAYBOOK) is a last minute Valentine gift that's perfect for the older guy in your life. Whether he's a boomer or retiree, the PLAYBOOK delivers concise news and reports to give a "heads-up" on maintaining and improving his lifestyle, finances, family relationships and technology know-how. The PLAYBOOK requires only one login to view over 20 multi-media centers ranging from on-line news to advice for avoiding scams to tips for improving his marriage. Thereafter, there's no typing. Plus the site is secure to prevent web browsers from monitoring and selling his on-line behavior.
According to John Montelione (age 66), PLAYBOOK CEO, "The PLAYBOOK is for the guy who's a hunt and peck typist, who's fed up with search results that are out-of-sync with the needs of an older guy and who wants a consistent way of accessing the information he needs."
In 10 minutes you can evaluate and buy the PLAYBOOK for your guy. In 1 minute, the site's key features can be reviewed by selecting the "SHOW ME" icons at http://www.secondhalfplaybook.com; in 4 minutes you can do a free site evaluation. With the remaining 5, you can purchase the PLAYBOOK Gift Subscription and print out the gift subscription.
If more information is needed, prospective purchasers can access:
-- What is Needed to Make the Internet More Useful to Male Golden Boomers and Retirees
http://www.secondhalfplaybook.com/sites/default/files/Usefulinternet.pdf
-- The PLAYBOOK for Driving the Information Super Highway
http://www.secondhalfplaybook.com/sites/default/files/PlaybookHighway.pdf
About the Second Half Playbook, LLC
The Second Half Playbook, LLC ("Company") was founded in 2009 and is headquartered in Sarasota, Florida. The http://www.secondhalfPLAYBOOK application is written in Drupal and is hosted on servers (i.e., the cloud) by Rackspace Hosting. The Company's goal is to optimize web usage for the baby boomer and retiree population segments by filtering and simplifying the delivery of information from reputable, user-requested content providers.
###