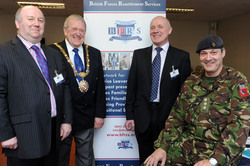 The British Forces Resettlement Services Career (BFRS) Transition Event was not just helpful for those who were able to attend, but inspirational too
(PRWeb UK) February 11, 2011
BFRS hosted its career transition and networking event in Catterick to help past, present and future Service leavers and their family members access a range of support organisations and find meaningful employment when they return to civilian life.
The event, staged at the Scotch Corner Hotel, was attended by Catterick Garrison Commander, Colonel Nick Millen, and Mayor of Richmond, Cllr Barry Heap, and proved to be the BFRS' most successful yet.
"The British Forces Resettlement Services Career (BFRS) Transition Event was not just helpful for those who were able to attend, but inspirational too," said Col Millen.
"BFRS brought together a variety of organisations offering both training and employment advice. With so many of those providing the advice, having served in the Armed Forces themselves, they understood not just what the service leavers needed to do to as they embarked upon the transition to a second career, but importantly, they understood how they felt too. BFRS will, I am sure, be a source of much help for me and all others who engage their services."
More than 40 exhibitors took part, including British Gas, QTS Group, AMEC, Civvy Street, Yorkshire Water, Redcar and Cleveland Borough Council, Drivers Direct and Humberside Police.
One of the other major features of the Catterick event was the launch of Omnivil http://www.omnivil.com, the UK's first fully functional virtual job fair, heralding a whole new approach to ex-military recruitment.
Omnivi l will bring employers and prospective candidates together in an online forum that has all the facilities currently being offered in the "real world". Available twenty-four hours a day, seven days a week, Omnivil will make the career transition process very easy and accessible. All the exhibitors at Catterick had their own online booth, enhancing the transition services that were available on the day.
Derek Pudney, training manager at Drumclog-based engineering company QTS Group, said he found himself giving a lot of advice and felt the event was very beneficial to those thinking about their options when leaving the Services.
Mr Pudney, who himself served in the Army for 11 years, said: "It was the first event I've been to and I felt it went very well. I'm ex-Forces myself and felt that when I was in the Army there was not much out there offered to me in terms of advice. The BFRS event offered the Services personnel a lot of choices when thinking of returning to civilian life."
Alison Jones, attraction and diversity coordinator for British Gas and Centrica, said: "It was a very well organised event and everyone who attended was genuinely interested in finding positions when they leave the Forces. We try and attract ex-Forces staff because they are the kind of people we are looking for, with skills and values linked to ours. It was a good opportunity for us to promote positions with British Gas and we are determined to attend future BFRS events."
Former Serviceman David Owen, now programme manager at Tonbridge-based training support organisation Learn Invicta, added: "Although I was very lucky in finding the job I'm in now before leaving the Forces, I had found it a struggle coming back into civilian life and there was nothing like this type of event around. Without a shadow of a doubt it's something that we as a company want to keep doing."
BFRS' Catterick event followed two previously successful ones staged in Aldershot and also included practical sessions in areas such as CV writing and interview skills, to assist the transition to civilian life.
It also came in the aftermath of last year's strategic defence review when the government revealed that defence spending would fall by 8 per cent over four years with the RAF and Navy due to lose 5,000 jobs each, the Army 7,000 and the Ministry of Defence 25,000 civilian staff.
Neil Dean, business manager of BFRS, said: "As with our two previous events, the one staged in Catterick proved to be an incredible success as a source of advice for those thinking of leaving the Forces, and as a bespoke point of contact for employers looking for potential employees. The BFRS has shown again just how important it is to highlight to ex-Forces personnel, or those about to embark on their new civilian lives, the full range of options and support available to them to help make the transition a smooth one.
"Practical activities like the CV workshops were once again one of the most popular events of the day, while interest in the launch of Omnivil from both employers and potential employees was also extremely encouraging. Overall, the event was a resounding success for all concerned and we were delighted to hear that all exhibitors expressed interest in taking part in future BFRS career transition and networking events."
###