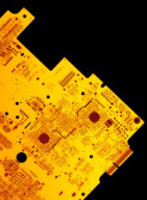 This authorization by UL is recognition of the competence and quality built into every EI PCB
Chicago, IL (PRWEB) February 10, 2011
Electronic Interconnect (EI), a leading provider of printed circuit boards (PCBs) and PCB design services, has received Underwriter's Laboratories (UL) approval to use 6-ounce copper and metal clad PCB components in PCB products and to apply the UL approval mark to them. EI received a UL Notice of Authorization to apply the UL Mark to PCB products using Tlam™ SS LLD thermally conductive PCB substrate, a low-cost, high-performance thermal substrate system specifically designed for LED module applications. Tlam SS LLD is a trademark of Laird Technologies, Inc., headquartered in St. Louis.
"This authorization by UL is recognition of the competence and quality built into every EI PCB," stated Alexander Nudelman, EI's Quality Assurance Manager. "UL evaluated our newer, higher-performance products and found them worthy once again to bear the UL Mark. This is an important step for us, because EI has been a leader in the design and fabrication of thermal management boards. We offer a wide range of PCB materials, constructions, and configurations for electronic assemblies requiring heat management characteristics, such as high-power devices, RF and wireless, lighting and LED circuit boards, and others."
EI has been previously UL certified for metal-clad PCBs with a standard dielectric, and can work with various thicknesses of aluminum and copper metal cores, including 2-layer T-lam, hybrid IMPCBs with FR-4/T-preg, multilayer metal base construction, and multilayer FR-4/T-preg hybrids.
Tlam SS LLD is a PCB substrate system specifically designed for heat dissipation in bright and ultra-bright LED module applications. The thermally conductive PCB substrate provides 8-10 times the heat dissipation as compared to conventional FR4-based PCBs, and improves thermal transference from the heat source to the heat sink through PCBs, reducing the thermal stress placed on the PCB.
"Our thermal management PCB products dissipate heat effectively, keeping components cool which results in increased performance and life," Nudelman says. "The materials that we use provide outstanding thermal performance with high dielectric strength and low capacitance; in our carefully-engineered constructions, they can eliminate the need for fans, heat sinks and heat spreaders."
For more information, contact Alexander Nudelman, Quality Assurance Manager.
About Electronic Interconnect
Electronic Interconnect (EI) is a professional printed circuit board manufacturer located in the Chicago area, and manufacturing printed circuit boards in the U.S. since 1985. EI serves design engineers and contract assemblers, providing all types of PCBs from single-sided to complex multilayer boards from prototype through production. EI is ITAR registered, is a member of the Chicago Minority Business Development Council (cmbdc.org), and is ISO and UL certified. For more information, visit eiconnect.com, or contact the company at 2700 W. Touhy Avenue, Elk Grove Village, IL 60007, Tel. 800-364-4844.
###