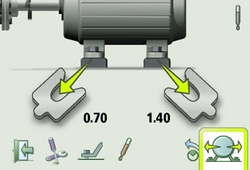 Richmond, VA (PRWEB) February 11, 2011
VibrAlign launches a new wireless shaft alignment tool, the Fixturlaser GO Pro, with an adaptive and time saving user interface. Even better, the new Go Pro comes with the Verti-Zontal Compound Move function that describes a fundamental change in the process of correcting misalignment of rotating shafts.
One of the biggest advances in the Fixturlaser GO Pro tool is its unique, adaptive user interface. Depending on what the measurement results show, the tool will guide the user throughout the alignment process.
If the shaft alignment is out of tolerance, the tool first suggests how to correct the alignment vertically, i.e. the screen shows the shims by size required to add or remove in order to achieve a precision shaft alignment.
The user then proceeds to the horizontal adjustment, where live values are displayed during the entire adjustment. Thanks to the "Verti-Zontal Compound Move" function, no remeasurements are required. Hence, the risk for incorrect values is reduced, as the measurement units remain in the same position throughout the adjustment phase. This is the second biggest advance because it truly is a fundamental change in how the alignment process has changed. See chart below to better understand:
Fitted out with a 4-inch color screen and an animated graphical interface, the Fixturlaser GO Pro is an "easy to handle" tool for everyone who works with maintenance and service of rotating machinery.
For further information, please contact:
Editorial inquiries: Kyle White, Director of Marketing, tel 804-379-2250, e-mail: kyle.white(at)vibralign(dot)com
Visit our website: http://www.vibralign.com
Visit our blog: http://www.thealignmentblog.com
# # #