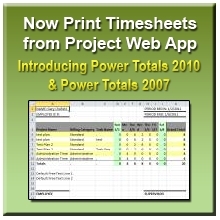 Our Totals web parts for 2007 were our top sellers, and many of our Microsoft Project Server 2007 users requested the ability to print timesheets
New York, NY (PRWEB) February 11, 2011
Despite the fact that Microsoft Project Server 2010 sports a vastly improved user interface, replete with Microsoft's innovative ribbon navigation, the system falls short of satisfying users who must enter their time into the Tasks page or Timesheet page in Project Web App. This is especially a problem for users who must report specific totals by period or by project to comply with company policy. Power Totals 2010, a simple-to-install custom web part solves this problem by providing a dynamic summary grid that delivers instant feedback as users enter their time.
With Power Totals 2010 for Microsoft Project Server 2010, users can also generate printed timesheets, meeting the requirements of organizations with print, sign and submit timekeeping standards. "Our Totals web parts for 2007 were our top sellers, and many of our Microsoft Project Server 2007 users requested the ability to print timesheets," commented Gary Chefetz, CEO of msProjectExperts. "We're delighted to provide this functionality in Power Totals 2010. Like all of our web parts, Power Totals 2010 is fully localizable to any language, or terminology preference, by simply changing labels through the web part control panel," continued Chefetz, "but my favorite feature is that Power Totals 2010 works on both the Timesheet page and the Tasks page in Microsoft Project Sever 2010. This makes life so much easier for organizations that use both pages to manage their work."
Power Totals 2010 generates printable timesheets by exporting timesheets to a pre-formatted Excel report allowing users to print timesheets at the summary or detail task level. Users can print any available timesheet for any available period in Microsoft Project Server 2010. Administrators can set the labels used for both the on-screen view and timesheet reports through the web part control panel as well as add standard legal language to the rendered report. The timesheets include billing categories to assist Finance staff with preparing and reconciling customer invoices.
Microsoft Project Server 2010 users can download a fully functional free trial by visiting http://www.msprojectexperts.com/software. You can purchase Power Totals 2010 for a single site with unlimited users or for a Microsoft SharePoint and Project Server 2010 farm with unlimited sites and unlimited users.
Contact
Jennifer Herman
msProjectExperts
(646) 736-1688 x22
###