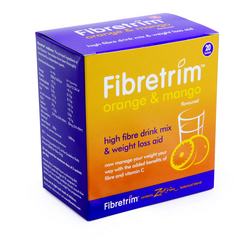 The 25% or so reduction shown by Zotrim/inulin was of a magnitude only previously reported in studies of appetite suppressing drugs.
(PRWeb UK) February 11, 2011
Research has found that a dietary fibre significantly cuts calorie intake when combined with a herbal blend.
When taken together with an established patented herbal extract, the fibre inulin - extracted from chicory root - cut lunchtime calorie intake by an average of 26.7 per cent. This compares to a variable 12-26 per cent reduction in calorie intake reported for the leading weight-loss drug sibutramine.
In the double-blind placebo-controlled study of 58 healthy to slightly overweight young women, researchers at the University of Liverpool tested the effect of an inulin drink together with an established yerba mate, guarana and damiana botanical blend commercially available on the UK high street as Zotrim. These were given before a fixed calorie breakfast and again before an ad libitum buffet lunch where food intake was carefully measured.
In findings presented on 14th July at the International Congress on Obesity in Stockholm, researchers found that the botanical formula, available as Fibretrim, resulted in:
- 202 fewer calories (26.7%) consumed at lunch across all food types compared to a control (132 fewer calories for Zotrim and 90 fewer calories for inulin alone)
- almost 50% (48.8%) reduction in the gram intake of high fat sweet items (Zotrim achieved 27.6% decrease)
- a statistically significant reduction in ratings of hunger and desire to eat when measured pre-lunch
Previous studies have shown that inulin may increase satiation by affecting the release of peptide hormones, involved in control of eating, from the gastrointestinal tract whereas Zotrim is known to delay gastric emptying and reduce the time to perceived fullness. The mechanism by which inulin enhances the effect of the standard Zotrim formula remains to be established.
Dr Jason Halford, who led the study at the Kissileff Laboratory for Ingestive Behaviour at the University, says:
"The magnitude of the Zotrim/inulin acute effect on calorie intake was surprising. Previous studies on foods and food supplements typically show reductions of less than 10% in calories intake. The 25% or so reduction shown by Zotrim/inulin was of a magnitude only previously reported in studies of appetite suppressing drugs.
We have demonstrated that Zotrim produces a robust acute effect on calorie intake. This analysis showing that the dietary fibre inulin enhances this acute effect and that the Zotrim/inulin combination had a significant effect on consumption of high fat sweet foods is a very novel finding and may be related to changes in pre-meal appetite. It will be interesting to see how these laboratory based findings translate into consumer experience for those trying to control their appetite to prevent weight gain or lose weight."
An orange/mango flavoured drink mix, Fibretrim, containing an inulin/Zotrim formula based on that used in the study has been launched for weight and hunger management and portion control.
It is also formulated to promote the benefits of inulin on the digestive system and its action as a prebiotic. The potential for prebiotic fibres to influence appetite and aid weight control, as well as benefit gut health, is the focus of much research and innovation within the global food industry. However, few finished products are currently available to the UK consumer.
Fibretrim is priced at £22.45 for 20 sachets available from http://www.fibretrim.com
For more information, images, samples or to arrange an interview with
Dr Halford or other members of the Liverpool team please contact CCD PR:
Joanne Jarvis / joanne(at)ccdpr(dot)com / 020 7434 4100
Jacqueline Labib / jacqueline(at)ccdpr(dot)com / 020 7434 4100
# # #