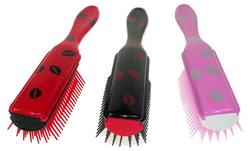 London, UK (PRWEB) February 11, 2011
The Kiss Brush Range from Denman (Denmanbrush.com) combines their iconic D3 styling brush with a luscious lip design adding fun into every use.
Kiss Brushes are a romantic, feminine way to brush your hair. The Classic D3 Styling Brush from Denman has an anti-static rubber pad to provide maximum grip and control during blow-drying for smoothing, shaping and polishing the hair. Use it, and you will feel beautiful enough to kiss every day.
The Kiss Brush D3 comes in saucy red and sexy black complete with kiss lip prints and vibrant pink with silver kiss prints. Why not try a new approach this year and get your man to buy you a thoughtful present this Valentine that you will use over and over again.
The Denman D3 Professional styling brushes are available from selected from Boots, Superdrug, Sainsbury's, John Lewis, independent chemists and good salons nationwide. For stockists call Freefone 0800 262509 or visit Denmanbrush.com. RRP £7.30.
Brush tips

Hair should be brushed morning, night and prior to shampooing to remove tangles, accumulated dirt and dead skin cells.
If hair is backcombed or really tangled first use a wide toothed comb to loosen up any knots.
Always brush gently, over- zealous strokes can pull and tug the hair.
The action of brushing spreads sebum – hair's natural conditioner – down the hair shaft to make hair glossy.
Brushing stimulates the supply of blood to the hair follicles promoting healthy growth.
The action of the brush through the hair also helps to smooth the cuticles – the tiny overlapping scales on each hair shaft – encouraging them to lie flat, thus reflecting light and giving hair a brilliant, glossy shine.
Never brush wet hair instead use a wide toothed comb to gentle untangle from the ends up towards the roots.
Forget old wives tales about a 100 brush strokes a day this can damage cause stress to the hair and promote breakage and split ends. It can also overstimulate the production of sebum and make hair lank and greasy.
Keep your brushes clean – wash regularly in hot soapy water. To remove hairs from your brush run a comb vertically between the bristles to loosen hairs and then ease out with your fingers.
Throw away any brushes with broken or damaged bristles or quills they can tear and snag the hair and also scratch the scalp.
About Denman International: Denman is the UK's foremost manufacturer and distributor of professional hairdressing tools which are marketed under the DENMAN brand. Their commitment to product design and development has consistently kept them at the forefront of the innovative hair industry.
For further details contact:
Denman International Limited, Clandeboye Road, Bangor, Co.Down, BT20 3JH.
Tel: +44 28 9146 2141 Fax: +44 28 9145 1654.
Web http://www.denmanbrush.com; Email sales(at)denmanbrush(dot)com
For more information, samples or images via email for Denman contact:
Geri or Kimberley at JWPR Tel: +44(0)20 3252 0094 Fax: +44(0)20 8916 3183
Email: geri(at)jwpr(dot)co(dot)uk or kimberley(at)jwpr(dot)co(dot)uk
###