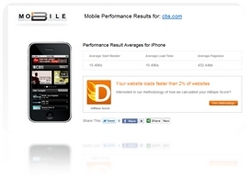 Ottawa, ON (PRWEB) February 10, 2011
Blaze Software Inc announced today the availability of a free service to help Website owners measure and improve browsing performance for users of mobile devices. Many solutions exist to measure desktop browser performance. Blaze is the first solution to provide accurate and actionable mobile performance data for iPhone and Android devices.
The Blaze mobile measurement tool addresses the need for performance data as website owners move to capture the opportunity to bring more mobile users to their sites. Mobile Web browser usage is exploding. Emarketer estimates that 44.1% of US citizens will leverage mobile internet by 2014. A recent report by Cisco showed that mobile data traffic almost tripled for the 3rd year in a row.
Despite the growing importance of the mobile customer, many sites are still too slow to be useful by mobile users. Research shows that customers expect sites to load in 2 seconds or less before they start abandoning them. Most websites have a long way to go to meet this expectation.
The first step in addressing mobile browsing performance is to measure and understand the problem. Many tools exist for measuring desktop experience but there are no good tools for measuring mobile web performance. Site owners had to resort to manual and inaccurate techniques such as using a stopwatch. With no information on what caused slow downs, optimization can be a slow trial and error process.
To help solve this problem, Blaze has launched a free service that will measure end user performance on both Android and iPhone devices. To ensure realistic measurements, tests are run on actual Android and iPhone devices not emulators. The service provides overall page load times and detailed timing information about each page resource. Users can also a see a video replay of their site loading with screenshots taken from the phones' browsers.
By understanding what parts of a page are slowing it down, site owners can finally take action to address the bottleneck. They can do this by manually by fixing their site or using automated Web Performance Optimization services such as Blaze.
For more information on the Mobile measure service
Blaze's mobile measurement service can be found at: http://www.blaze.io/mobile
About Blaze
Blaze was founded in 2010 with a mission to help clients deliver better performing Web businesses by optimizing websites to increase website speed. Blaze provides a hosted Web Performance Optimization service that improves front end performance and reduces operational costs. For more information, see: http://www.blaze.io
###