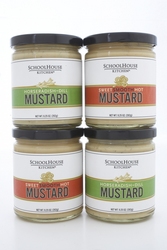 Brooklyn, NY (PRWEB) February 14, 2011
All-natural food company SchoolHouse Kitchen® is pleased to announce that several products will be sold in two more regions of Whole Foods Markets—the Mid-Atlantic and Pacific Northwest Regions.
Starting this week, all Whole Foods Markets in the Mid-Atlantic Region—38 stores in Kentucky, Maryland, Southern New Jersey, Ohio, Eastern Pennsylvania, Virginia, and Washington DC—will sell SchoolHouse Kitchen's original product, SweetSmoothHot Mustard, and its tasty cousin, Horseradish Dill Mustard.
Meanwhile, across the country, 13 Whole Foods Markets in the Pacific Northwest Region—in Oregon and Washington—now carry both of SchoolHouse Kitchen's deliciously smooth mustards, as well as the zesty vinaigrette line, Balsamic Vinaigrette Basico and Ginger Lime Vinaigrette.
SchoolHouse Kitchen products are now currently sold at nearly 90 Whole Foods Market, including stores in the Northeast and Southeast Regions. Founded in Austin, TX in 1980 and evolved as a world leader in natural and organic foods, Whole Foods Market has more than 300 stores in North America and the United Kingdom.
"We are very excited to have our products be easily accessible to our customers in new territories," exclaims Wendy W. Smith, president of SchoolHouse Kitchen. "Our relationship with Whole Foods Market continues to grow, and we are very excited that more people are discovering our products."
SchoolHouse Kitchen mustards and vinaigrettes have received noted attention from Bon Appétit and the Napa Valley Mustard Festival, to name a few. TimeOut New York lauded SweetSmoothHot Mustard as "a superlative condiment… tangy and potent enough to dot on a pretzel, but so sweet and rich we've eaten it spread on toast."
SchoolHouse Kitchen is proud to use all-natural ingredients in all of its products. Versatile as both dressings and marinades, the distinctive flavors of the SchoolHouse Kitchen vinaigrettes contain a short list of all-natural ingredients, rather than added fillers or stabilizers. The Balsamic Vinaigrette Basico reaches the palate, as described by Food & Wine Magazine, as "peppery… and fresh tasting."
Wendy Smith continues, "This is a perfect partnership with Whole Foods. Our all-natural products are right at home on the Whole Foods Markets' shelves."
SchoolHouse Kitchen was founded by Patsy Smith in her upstate New York kitchen as a way to share her own wildly-popular home recipes. A family-run company, SchoolHouse Kitchen offers gourmet taste conveniently packaged to transform your everyday culinary experience to be sublime. The company's mission is to sell all-natural, gourmet products to support educational causes and programs.
Find the locations of the Whole Foods Markets and other specialty stores that carry SchoolHouse Kitchen products here. To learn more about SchoolHouse Kitchen's delectable products—mustards, chutneys, vinaigrettes and Anytime Spreadable Fruits—the company's mission, recipes, and how to purchase products, visit http://www.schoolhousekitchen.com or call 718.855.4990.
# # #