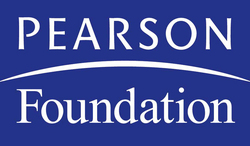 Washington, DC (PRWEB) February 10, 2011
The Pearson Foundation helps teachers, schools, academic leaders and local communities do all they can to help young people succeed. For this work, the organization will receive the NEA Foundation Award for Philanthropy in Public Education. One of public education's most prestigious honors, the award will be presented on February 11, 2011 at the NEA Foundation's Salute to Excellence in Education gala in Washington, DC.
"The NEA Foundation Award for Philanthropy in Public Education recognizes the Pearson Foundation's significant commitment to public education, and their ongoing support of public schools, students, and educators," said Elizabeth Oliver-Farrow, Chair of the NEA Foundation's Board of Directors. "Through our partnerships with the Pearson Foundation, we have seen firsthand the impact that its creative, innovative programs have for young people and the educators in communities around the world."
Working with a growing international network of leading public and private organizations, the Pearson Foundation provides programs and resources that help extend the efforts of leading nonprofits--including the NEA Foundation--that promote literacy, learning, and great teaching. The Pearson Foundation aims to make a difference specifically by collaborating with other organizations to share best practices, foster innovation, and find scalable solutions to the educational challenges facing young people and adults across the globe.
"When we selected global education as our theme for this year's gala, the Pearson Foundation seemed the most appropriate choice for this award," said Harriet Sanford, President and CEO of the NEA Foundation. "Through our partnerships, we have reached students from South Africa to Bogalusa, Louisiana--and beyond. In each instance, we've done more together to help young people and the educators who support them than we ever could have done on our own. It's this spirit of collaboration and innovation that really distinguishes the Pearson Foundation."
The Pearson Foundation has supported a number of important NEA Foundation initiatives.
Most recently, the Pearson Foundation has been helping the NEA Foundation to create and launch a new collaborative digital network to be used by members of the NEA Foundation's Institute for Innovation in Teaching and Learning.
Again this year, the organization is also taking part in the NEA Foundation's Awards for Teaching Excellence program by providing digital arts training for awardees and their students and colleagues. A team at each school created a video to honor each distinguished educators' impact. These videos will be showcased at the awards gala and can be viewed beginning February 11 at pearsonfoundation.org.
"For five years, the NEA Foundation has graciously invited the Pearson Foundation to join with them in many significant initiatives that have connected us to inspirational educators in all corners of the world," said Mark Nieker, President of the Pearson Foundation. "To receive this recognition by the NEA Foundation is a great honor and, we believe, it affirms that our collaborative approach is helping improve opportunities for students and teachers all over the globe."
Nieker will accept the award on behalf of the Pearson Foundation at the NEA Foundation's awards gala. The Pearson Foundation will be honored along with 31 recipients of the NEA Foundation's Awards for Teaching Excellence and Adora Svitak, a child prodigy and advocate for literacy and learning.
Media Contact:
Stacey Finkel
(703) 304-1377
About the Pearson Foundation
The Pearson Foundation, a 501(c) (3) nonprofit, extends Pearson's commitment to education by partnering with leading nonprofit, civic, and business organizations to provide financial, organizational, and publishing assistance across the globe. The foundation aims to make a difference by sponsoring innovative educational programs and extending its educational expertise to help in classrooms and in local communities. More information on the Pearson Foundation can be found at http://www.pearsonfoundation.org.
###