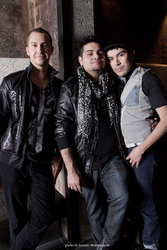 Palm Springs, CA (PRWEB) February 11, 2011
Fashion Week El Paseo (March 20-28, 2011) will feature a thrilling evening of American popular culture with a runway show showcasing three Project Runway Season 8 contestants: Michael Costello, Mondo Guerra, and Christopher Collins. Each will present a new original collection on Wednesday, March 23, at 7 p.m.
Costello will present a dazzling new collection including 30 of his trademark evening gowns. Collins will show his latest collection of ready-to-wear that is featured in Neiman Marcus stores as well as other boutiques and stores in the United States, while Guerra will reveal 15 of his cutting-edge designs.
The event also features a special performance by Season 5 American Idol finalist Kimberly Locke, who will entertain and delight the audience during the evening.
The sixth annual Fashion Week El Paseo, produced by Palm Springs Life in partnership with the City of Palm Desert, is the premier West Coast fashion event, providing a week of high-quality fashion events for the consumer as well as the fashion industry. Other Fashion Week El Paseo sponsors include El Paseo Merchants Association, The Gardens on El Paseo, El Paseo Village, and El Paseo Jewelers.
Attendees will enjoy a week of fun and glamorous events — from makeup and hair makeovers at the Style & Beauty Bash to high-energy runway shows by Oliver Tolentino, Trina Turk, Saks Fifth Avenue, and top design students from FIDM/Fashion Institute of Design and Merchandising. The appearance by Costello, Collins, and Guerra adds an exciting evening of Project Runway Style. Fashion Week El Paseo runway events will benefit a variety of worthy charitable causes.
During the days, more than 60 in-store events on El Paseo — including trunk shows, informal modeling, fashion seminars, champagne receptions and more —showcase luxury brands and style trends.
For more information, tickets, or sponsorship opportunities, contact Michael Mathews at Palm Springs Life, at 760-325-2333 or via e-mail at michaelm(at)palmspringslife(dot)com, For updates and tickets log on to http://www.fashionweekelpaseo.com
About Christopher Collins
Prior to national recognition as a season 8 Project Runway contestant, Christopher Collins was already gaining recognition as an emerging designer that multiple publications noted as "someone to watch." As a Gen Art honoree and a "Resident Talent" for Lucky Magazine, Christopher Collins is becoming an unstoppable force in fashion. In Fall 2008, Christopher Collins founded Christopher Collins™ with lifetime friend and award winning filmmaker, Erica Tanamachi. Made in San Francisco, each garment demonstrates quality, luxury, high fashion and femininity with a fit that rival the greatest in the industry. Christopher Collins™ continuously crafts pieces with tailored Elizabethan collars and flattering silhouettes with luxurious fabrics from Italy, France and Japan. Growing in popularity, the sophomore collection was showcased at Gen Art and received rave reviews. Celebrities such as Jennifer Siebel Newsom, Stephanie March and Aimee Garcia wear the Christopher Collins brand and the collection can be found at boutiques throughout the United States. Pieces have also been featured on the cover of SF Chronicle, Marin Magazine and Bare Magazine and inside multiple local and national publications including but not limited to Lucky Magazine, Apparel News, Daily Candy and 944 Magazine. Fall 2010 is the Fifth collection for the brand and offers the Christopher Collins woman timeless pieces that will take her from day into night looking "effortlessly elegant."
About Michael Costello
Costello, 27, has recently been designing for some of today's hottest celebrities including Toni Braxton, Paulina Rubio, Paris Hilton, Selma Hayak, Traci Bingham, Mary J. Bilge, Nicole Richie, Lindsay Lohan, Celine Dion, among others. He has also created designs seen on The Real Housewives Of Orange County and other TV shows. In 2009, Costello presented his first collection at LA Fashion Week.
Costello began creating designs at the young age of four. At 14, Costello made his first couture collection, earning him a fashion review and listing in Vogue Magazine's article, " Los Angeles' Hidden Talent". At age 15, this design wunderkind opened his first boutique in Palm Springs.
After studying at the Fashion Institute of Design Merchandising in Los Angeles, he had the opportunity to take a one-year internship with the celebrated show biz designer Bob Mackie at the young age of 16. Since Costello's star turn on Project Runway his career as a nationally-known talented designer has been established.
About Mondo Guerra
Denver designer Mondo Guerra's innovative style and bold designs won him the runner-up finish on the eighth season of Project Runway. Guerra entered the fashion industry as a teen, constructing a pair of green, faux fur pants as his first garment. The self-taught designer quickly secured a position as a milliner's apprentice, then as a designer for a New York City junior-wear company, and eventually as a costume designer. He gained recognition in Denver after winning city fashion competitions and raising eyebrows with his early Technicolor collections. His Project Runway creations consistently placed him in the top three ranking, and he claimed victory for three consecutive challenges. The show's judges praised him for impeccable construction and styling, masterful mixing of prints, and fearless use of color. In addition to his success on the runway, audiences rallied in support of Guerra following the emotional disclosure of his HIV-positive status, which he revealed as his inspiration during the judging portion of a challenge in which the competitors created their own fabric prints. He has since become a vigorous advocate for HIV/AIDS awareness. From his Denver home base, Guerra is creating collections for fashion week events around the country and developing his signature brand.
Palm Springs Life brings its readers engaging and topical monthly articles including richly drawn celebrity profiles; commentary on politics; intelligent features on contemporary culture, art, architecture, and lifestyle trends; a who's who on the desert's vibrant social scene; and the ultimate guide for what to do, where to go and what to wear in the Palm Springs Desert Resorts communities.
Palm Springs Life is the essential lifestyle magazine for the Palm Springs Desert Resorts, which is comprised of eight dynamic cities. Enriching the lives of residents and visitors from around the world for more than 50 years, Palm Springs Life has achieved cultural icon status during its long successful history -- which places it in rarefied company in the publishing world. Palm Springs Life is published by Desert Publications, Inc. which produces numerous lifestyle magazines throughout the West Coast.numerous lifestyle magazines throughout the West Coast.
For more information visit http://www.palmspringslife.com
# # #