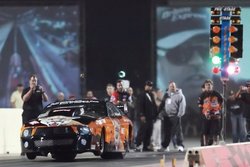 "I think the 201 may have been bettered but no one has gone 3.82 before," noted tuner Shane Tecklenburg.
Doha, Qatar (PRWEB) February 10, 2011
Team Never Scared Racing's Mustang Twin Turbo Top Sportsman recorded an elapsed time of 3.829 during Qualifying at the Arabian Drag Racing League's Round 7 at the Qatar Racing Club. The run, which is the quickest ever for a turbocharged door type car of any kind in the world, was coupled to a personal best speed of 201.01 miles per hour, a full 2.5 MPH faster than the teams previous best of 198.29 MPH. After an earlier run of 3.93 at 195 mph the team knew something special was bound to happen during the final qualifying run.
"After it went 3.93 in the second (qualifying) session, I expected it to run an .80 something," noted team tuner Shane Tecklenburg of Huntington Beach, CA, USA. "But I could not have imagined that it would put up that low of a number, that was unreal. I am so happy for us, Greg Johnson and Chad Morgan have worked hard to try and get this chassis sorted out and it finally appears to be paying off."
The team had been struggling to get grip on the expertly prepared QRC racing surface despite winning the last 3 Rounds in a row. The problem was actually one of too much grip causing the tires on the powerful Mustang to oscillate violently at 30 cycles per second near the 60 foot mark. Crew Chief Greg Johnson and Car Chief Chad Morgan both from the USA put their heads together and came up with some adjustments which made all the difference.
The team currently sits atop the qualifying ladder in the number 1 position with a leg up on a national e.t. record as well as a speed record. Unfortunately, the 3.829 was actually too quick to back up the earlier 3.93 pass for the record so the team will have the added pressure of trying for the record during final qualifying tomorrow and during eliminations.
Final qualifying for the Arabian Drag Racing League's Round 7 will take place tomorrow afternoon at 3 p.m. local time.
###