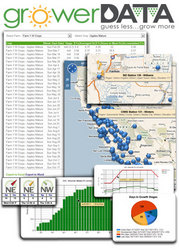 Green Valley, CA (PRWEB) February 15, 2011
growerDATA™ announces the launch of growerDATA.com, a high value, low cost, cloud-based application that presents agricultural data in an easy-to-use, easy-to-understand, graphic interface for the grower community. The highly secure growerDATA.com can be configured by a grower in less than 30 minutes and cost as little as $39 per month. The cloud-based environment in use by growerDATA.com is accessible from virtually any location with Internet connectivity, be it desktop, laptop, touch-pad or smart phone.
Chris Laffey, Cofounder & CEO, has been immersed the past five years in designing & developing data intensive agricultural applications. While building these programs the repeated request from growers was to transform the immense amount of available unfiltered data & analysis into information that is specific and useful to them. Chris took note and in late 2010, utilizing the latest data storage and web application technologies, set out to create the high value, low cost web enabled application, growerDATA.com.
growerDATA.com eliminates the searching of multiple web sites and applications trying to filter through data that may relate to the growers farm. With growerDATA.com, once an account is created, complete with location and crop specifications, the user can access the growerDATA toolset and begin utilizing detailed Weather Forecasts by Farm, Multiple Weather Network Feeds with Historical Data, Weather Alerts, Irrigation Forecasts & Scheduling, Dynamic Charts & Reports (for Growing Degree Days, Heat & Chill Hours and Bee Flight Hours), Kc Curve Generation Tool (Creates Irrigation Plan with Initial, Development, Mid & Late Growth Stages with Daily & Weekly Kc & ETc values for all stages), Crop Data Tracking (Record, Chart & Report on any type of Crop Data such as Leaf Wetness and Soil Moisture - also import data from existing files and spreadsheets) and Farm & Crop Online File Storage (Upload any file such as Maps, Schematics, and Spreadsheets to our highly secure, highly available cloud environment).
growerDATA™ is a privately held company specializing in the development of high value, low cost, cloud-based applications that provide the grower with online tools to help them make better, more informed growing decisions. For more details please visit http://www.growerDATA.com.
# # #