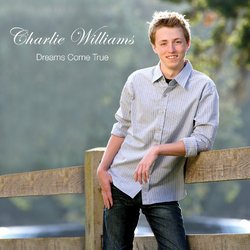 "This kid is going to fill stadiums." - Rachael Worby, Music Director Pasadena POPS Orchestra
New York, NY (PRWEB) February 14, 2011
Sixteen-year-old Charlie Williams is poised to break into the mainstream in 2011 with the release of his sophomore album "Dreams Come True." Called a "budding superstar" by Splash Magazine, The Frisky says; "Ladies, prepare to have your heart melted. There's a new teen crooner in town."
A romantic at heart, Charlie selected Valentine's Day as the album's release date. The album's debut single and title track "Dreams Come True" is set to the tune of Pachelbel's Canon with original lyrics. It's a classic love song – making Valentine's Day the perfect day of release!
About Charlie Williams:
Sixteen-year-old Charlie Williams releases his sophomore album "Dreams Come True" February 14th, 2011 through Silver Blue Records.
Charlie has already made a name for himself in the classical crossover world – his debut album spent 22 weeks on Billboard Classical Crossover chart. The album "Dreams Come True" is produced by the multi-platinum record producer Joel Diamond and multi-Grammy Winner Rudy Perez.
An avid animal lover, Charlie recently performed at Tony La Russa's Animal Rescue Foundation Annual Stars To The Rescue XX in Walnut Creek, CA. At the event, Charlie appeared with musical and comic giants such as Trumpeter Chris Botti, Tom Johnston of The Doobie Brothers, Timothy B. Schmit of The Eagles, and comedians Lewis Black and Kathleen Madigan.
Charlie has been performing since age 6 as an a capella soloist for the world-renowned VOENA (Voices Of Eve 'n Angel's) Children's Choir – which has performed for Presidents Clinton, George W Bush and the Pope John Paul II. He's also been flying since he was 13 and he gets his pilot's license this year! Aviation is in his genes – his grandfather was a WWII pilot and his great aunt was a stunt pilot during the 1930's. In addition to flying and singing, Charlie can also beat box and play the drums!
"Dreams Come True" is currently available on all digital download sites (iTunes, Rhapsody, etc) and is available physically through Amazon.com.
http://www.CharlieWilliamsMusic.com - http://www.Facebook.com/CharlieWilliamsMusic - http://www.Twitter.com/CharlieWMusic
For more information, please contact:
Publicity: Leslie Hermelin | Susan Blond, Inc. 212.333.7728 x131 | LeslieH(at)susanblondinc(dot)com
Bookings: Joel Diamond | Silver Blue Records | 818.980.9588 | jdiamond20(at)aol(dot)com
# # #