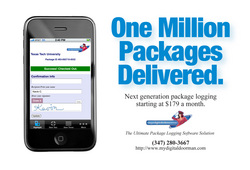 Would you rather buy a $5000 piece of equipment from Pitney Bowes or just use the phone that is already in your pocket?
New York, NY (PRWEB) February 16, 2011
MyDigitalDoorman.com is a cloud-based package logging company that started small, really small, just over three years ago. Created in the basement of his retail shipping store in 2008, Patrick Weir's web business tracks and records when packages are delivered, sending an email or text message to the recipient when they arrive, so they can be retrieved quickly and securely. His "little company that could" has grown at more than 300% per year since its inception right through the heart of the recession.
"At first, we just wanted to help other small shipping stores like ourselves," Weir said. "But then we started getting spontaneous requests from outside our industry." This put Weir and his little company in a head-to-head competition with multi-billion dollar competitors Pitney Bowes and UPS. Most would think that for a company with less than $100,000 in gross sales, this would be a bad idea. But Weir found his niche as the "Anti-Pitney Bowes."
"The good thing about being small is the ability to maneuver," Weir said. "We can take on the big guys by doing what they won't. We gave our customers the ability to scan out their packages on any smart phone, instead of selling them a $5000 handheld. Pitney Bowes would never give up revenue like that."
MyDigitalDoorman.com now logs packages for 100,000 people and has just successfully delivered its one millionth package with no sign of slowing down. What's the secret?
"People think we are kidding, but we actually call our customers regularly, just to check in," Weir said. "Small companies are run by passionate people who really care about their customers. When a company gets too big, the money people take over and customer service is the first thing to go. This is great news for the little guy, and for his happy, raving fan customers."
MyDigitalDoorman(.com) already has accounts in four countries, but is planning a "major invasion" of Canada this summer.
For more information, go to http://www.MyDigitalDoorman.com
###