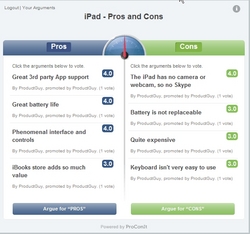 ProConIt is going to revolutionize the way we evaluate things and ultimately make better, more informed decisions
Falls Church, VA (PRWEB) February 16, 2011
ProConIt launched the world's first social evaluation website Wednesday, redefining how people evaluate and seek answers to any given topic or question.
ProConIt is a social media website helping users evaluate any subject in a better way. It can be used for issues, decisions, products, thoughts, ideas - anything. By laying out arguments in a logical manner and incorporating crowdsourced suggestions and weights, ProConIt provides an innovative way to analyze input, called "Procons." Procons are embeddable on any website, for use with media, politics, blogs, entertainment, product reviews, etc.
"ProConIt is going to revolutionize the way we evaluate things and ultimately make better, more informed decisions," said ProConIt co-founder and CTO Matt Hills. "Anyone who has browsed through a comment thread on the web knows there is no definitive end or easy way to extract relevant data. ProConIt changes that by providing a true social result, which we call Social Evaluation."
Social Evaluation is the concept by which the collective opinions, ideas, and arguments of a given group are combined into a comprehensive and analytical result for any given subject, providing a validated group assessment. "The basic idea behind Social Evaluation and ProConIt, is that everyone comes together and opines on a given topic, which is nothing new, but instead of free form discussion and commenting, everything exists within a defined and collaborative format," said Hills. "It can be viewed as collective critical thinking for the web."
And why use ProConIt? "The goal of ProConIt is to provide more accurate and concise information on any given topic. The relative weights of arguments allow you to focus on what is most important to you and your users. And don't forget, it's fun for people to participate, share their points of view, and be engaged in a new way."
What makes ProConIt different: we don't just tell you what people think, we also tell you why. "What we have done is solved the problem of inefficiencies which exist in current evaluative formats and presentations" said ProConIt co-founder and CEO, Cameron Hamilton. "Now, instead of having to sift through useless information to find the core of what's needed, we can put everything relevant into a simple, social format, emphasizing clear and concise arguments, to see what's most important."
 "For example: a political poll might tell you 'yes' or 'no' on an issue, or which candidate is ahead. However, a Procon takes the analysis a step further, by providing the reasons why people vote 'yes' or 'no'."
###