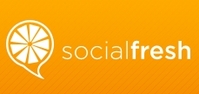 I feel it puts Social Fresh in a unique position. It makes us a leader in social media education for businesses.
(PRWEB) February 11, 2011
Effective February 1 2011, Social Fresh has teamed up with HubSpot as its official social media training partner to support and participate actively in new training initiatives. These initiatives will better enable businesses to learn, understand, and use social media with a focus on Facebook, blogging, & lead generation.
Social Fresh is the leading social media conference for businesses. Since August 2009, Social Fresh has been producing quality conferences on social media in cities such as Charlotte, Nashville, Tampa, Portland, St. Louis and Atlanta. During that time, the Social Fresh blog has shown a similar dedication to quality content.
HubSpot started in 2006 and is focused as an inbound marketing software solution for businesses of all sizes. HubSpot is its best case study, marketing their business solutions by helping educate other marketers.
This partnership builds on an effort to enhance the Social Fresh training at conferences and online. It will also enhance the online opportunities Social Fresh is building. HubSpot repeatedly provides some of the highest rated speakers at Social Fresh events, as rated by the marketers that attend. HubSpot leads the industry in research and data-based lessons on topics such as blogging, email marketing, Facebook marketing, and more.
Social Fresh President and Director of Business Development, Jason Keath, emphasizes that this will benefit marketers that attend Social Fresh events and that learn online through SocialFresh.com.
"HubSpot brings intelligent research, data, and some of the best seasoned speakers in the industry." says Keath. "Social Fresh has produced a dozen social media conferences as of this year. Our insight into how marketers learn about social media combined with HubSpot's unique training ability will be impressive. I feel it puts Social Fresh in a unique position. It makes us a leader in social media education for businesses."
Mike Volpe of HubSpot adds "Just as Social Fresh is a social media education company, HubSpot is a company that also provides resources to educate businesses about inbound marketing. We gain customers through teaching them. Our inbound marketing software educates businesses on how to make social media produce real business results. The partnership with Social Fresh will allow both of our companies to continue to benefit marketers. That is our mutual goal."
The partnership between Social Fresh and HubSpot will be more than just supporting Social Fresh conferences with onsite training resources. It will include combining forces with online training as well. Soon, the two businesses will be working together on SocialFresh.com articles, info-graphics, co-branded webinars, and e-books. Their first webinar will be February 15th, pulling together 3 industry experts to discuss Facebook marketing
Added to this new focus on training and hands on training for marketers, Social Fresh will announce its newest initiative into online learning, Social Fresh Academy, in the coming weeks.
For additional information on Social Fresh, visit http://www.SocialFresh.com. To learn more about Jason Keath or Hubspot, visit http://jasonkeath.com or http://hubspot.com. Jason Keath and Hubspot are both available for comment.
###