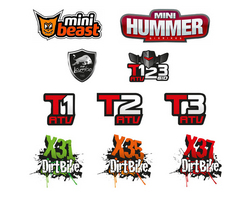 Terminating the competition, these fast-as-heck speed machines are fearsome on and off the track.
Richmond, BC (PRWEB) February 12, 2011
GIO Bikes continue to improve design branding and appearance – unique model logos are the newest initiative. These awesome new emblems will help customers distinguish between the versatile product line and select the model that suits them and their family best. GIO's affordable, well-built line of ATVs, dirt bikes, and recreational vehicles is unmatched in the industry, and now have their own logos to go with their reputations!
The beautiful new logo series that go with GIO Bikes (http://www.giobikes.com) lineup of recreational vehicles really adds to the already impressive models. A quick look at the unique designs:
Mini Beast – This nifty little monster represents one of the most exciting mini ATVs! The perfect vehicle for your little speed demon, the Mini Beast is a beast on any terrain.
Mini Hummer – The mini version of the Hummer ATV is only mini in size – everything else about it screams power and durability. GIO has tried to represent this with the strong, stark HUMMER logo.
T1/T2/T3 ATV – Terminating the competition, these fast-as-heck speed machines are fearsome on and off the track. From their intimidating lines to their scary-fast acceleration, the T1, T2, and T3 represent their logo well.
Lambo – Designing a brand identity to represent the classy, sleek, beautiful Lambo ATV was a challenge. GIO feels they've done it justice with this Italian-inspired sports car homage.
Beast – Following in the footsteps of its mini predecessor, the talon claws and raw intensity of the Beast logo shine through in the Beast ATV. Its beautiful custom design and explosive performance match this cool logo.
Bear – This brute of a machine is represented well in its green fatigues camouflage logo. Truly a brawny, beefy machine, the Bear is a huge force in any terrain.
Rock Liner – The rough-around-the-edges mantra of this work horse ATV are shown in its gritty logo. 4x4 performance matched with the massive engine of this ATV represent intensity and work ethic.
Mini 306/X21A/X21D – GIO's small size dirt bikes get their own sleek logo to represent their unique branding. These small bikes are perfect for the miniature people in your family.
X80/X33 Mid – GIO's mid size dirt bikes also have received their own unique logos, representing our great mid size bikes. For your late teen or small adult, these bikes are perfect.
X31/X35/X37 – GIO's full size bikes each have their own high-impact logo that jumps out of the page – and it represents them well, as their jump off the line, over obstacles and down the track.
Dune Buggies – Get your two-seater on with these awesome buggies. Touring the back country and the dirt roads is fun – but more fun with a friend!
Electric Scooters – The best way to get around town, don't ever confuse GIO's scooters with off-road vehicles thanks to their new logos.
About GIO Bikes:
GIO Bikes is committed to the perfect balance between quality, price, and design. With a full range of recreational vehicles as well as power equipment, tools, parts and accessories, GIO is the solution for everyone. GIO was formed in 2003 with the mission to provide well-designed, built, and priced products directly to the end user, with distribution centers in British Columbia and California, GIO is making its mark in the North American market.
# # #