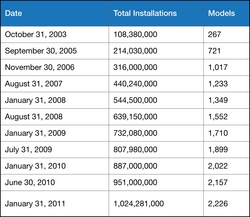 Barcelona, Spain (PRWEB) February 14, 2011
Mobile World Congress -- ACCESS CO., LTD., a global provider of advanced software technologies to the mobile, beyond-PC and digital TV markets, today announced that worldwide deployments of its NetFront™ products for embedded devices, notably NetFront™ Browser for mobile and beyond-PC devices, surpassed one billion units at the end of January 2011. The growth in NetFront software series deployments on a diverse range of internet-enabled devices including digital TVs, set-top boxes and smartphones, contributed to the attainment of this milestone.
NetFront Browser is among the most advanced full internet browsers available for beyond-PC devices. NetFront browser is specifically designed and optimized to deliver high performance in resource-constrained environments. It supports almost any OS and CPU and offers low power consumption, easy customization and a broad range of plug-ins. Many of the world's major telecommunications carriers and manufacturers of mobile devices and connected home appliances have deployed NetFront Browser. And market opportunities continue to expand. According to ABI Research, annual shipments of internet-enabled, media-networking devices like digital TVs, set-top boxes, gaming consoles and digital cameras are expected to more than double between 2010 and 2013, to a total of 458 million devices globally.
NetFront™ Browser DTV Profile, a browser solution specifically developed for connected TVs, has been adopted by more than ten of the world's leading television manufacturers. The solution was deployed in Japan and world markets last year in two of Sharp Corporation's AQUOS® LCD TVs (DR3 series and LB3 series), Toshiba Corporation's UX600 series LCD TVs, sold in the United States and featuring a YouTube™ service, Mitsubishi Electric Corporation's REAL MX and ATL series LCD TVs, Pioneer Corporation's MRZ90G digital terrestrial broadcast/receiving car navigation system, and Funai Electric Co., Ltd.'s LVW-324 LCD TV. In Europe, NetFront Browser DTV Profile has been deployed in set-top boxes and integrated digital TVs compatible with HbbTV services, and in Blu-ray Disc™ players compatible with BBC iPlayer services. NetFront™ Browser DTV Profile One-seg Edition, a BML browser for receiving one-segment digital terrestrial broadcasts, has been deployed in the REGZA® Phone produced by Fujitsu Toshiba Mobile Communications Limited.
In addition to its NetFront Browser DTV Profile deployments, ACCESS has also extended its efforts in digital TV by announcing NetFront™ TV Cast, an open platform for internet TV services. Leveraging its advanced engineering expertise and strong network with major TV manufacturers, established as an independent software provider, ACCESS will promote NetFront TV Cast as an ideal, open internet TV services platform on a global basis. ACCESS will also drive new generations of services that operate on the platform and will provide comprehensive internet TV services for global connected TV markets.
Leveraging its expertise and cutting-edge technologies of the NetFront embedded mobile software series; ACCESS has launched NetFront™ Life, an application series for Android™ OS and iOS smartphones and tablets available directly to end users. NetFront Life applications bring together all of the technologies and experience that ACCESS has achieved from its years of developing mobile software and delivering enhanced functionality, productivity and ease of use.
Having achieved the significant milestone of over one billion global deployments with its NetFront software series, ACCESS continues to focus on leading the internet software market in innovation and creativity and to deliver advanced software solutions to device manufacturers, service providers and end-users throughout the world.
Total NetFront product deployments and device models are shown in the table above.
About ACCESS
ACCESS CO., LTD. is a global company providing leading technology, software products and platforms for web browsing, mobile phones, wireless handhelds, digital TVs and other networked devices. ACCESS' product portfolio including its NetFront™ series provides customers with solutions that enable faster time to market, flexibility and customizability. Recently, ACCESS has launched NetFront™ Life as a global brand with applications and services for end users. Additional information about NetFront Life is available at http://www.netfrontlife.com. The company, headquartered in Tokyo, Japan, operates subsidiaries and affiliates in Asia, Europe and the United States. ACCESS is listed on the Tokyo Stock Exchange Mothers' Index under the number 4813. For more information about ACCESS, please visit http://www.access-company.com.
© 2011 ACCESS CO., LTD. All rights reserved.
ACCESS, the ACCESS logo, and NetFront are registered trademarks or trademarks of ACCESS CO., LTD. in the United States, Japan and/or other countries. Android is a trademark of Google Inc. All other trademarks, logos and trade names mentioned in the document are the property of their respective owners.
# # #