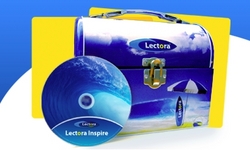 "Lectora Inspire eLearning software creates one integrated authoring environment in which customers can screen capture, screen record, and create eLearning content with unmatched power, ease-of-use and value." - Peter Bray
Cincinnati, OH (PRWEB) February 14, 2011
Trivantis Corporation, provider of world-class publishing technologies and services for multimedia eLearning, today announced that Lectora® Inspire eLearning software for authoring and content creation won a Bersin & Associates 2011 Learning Leaders Award in the "Vendor Innovation in Learning and Talent Management" category. Bersin & Associates presents this prestigious award to solution providers offering new and innovative ways to improve learning and talent management. Lectora Inspire, unveiled in August of 2010, offers a revolutionary combination of power and capability for creating eLearning that includes Lectora®, Flypaper™ for Lectora, Camtasia® for Lectora, and Snagit® for Lectora in one full-featured product.
The well-respected research and advisory firm, Bersin & Associates specializes in enterprise learning, talent management and talent acquisition. The company's research-driven Learning Leaders Program recognizes innovation and excellence in critical areas of corporate training and talent management. Bersin & Associates awards organizations that develop and implement unique approaches to learning resulting in significant business improvement.
"Trivantis deserves recognition for strategically collaborating with other leading providers and seamlessly integrating their products," said David Mallon, principal analyst for Bersin & Associates. "With Lectora Inspire, developers get much more than a package deal – the tight integration across platforms and 'round trip' editing eliminates the need to switch back and forth among programs. Users can create courses faster and more efficiently."
"We're pleased to receive this prestigious Learning Leaders Award from Bersin & Associates. We already knew Lectora Inspire would change the eLearning category, and client feedback confirmed this belief. Now, this award offers even more evidence that Lectora Inspire raises the bar in creating engagement and interaction in eLearning," said Peter Bray, Chief Marketing Officer for Trivantis. "With one integrated authoring environment, customers can capture, record, and create eLearning content with unmatched power, ease-of-use and value."
Trivantis forged strategic partnerships with leading companies to include best-in-class product capabilities in an integrated eLearning authoring environment. By partnering with Flypaper Studio, an award winning Flash content creation platform, Lectora Inspire includes a custom version of its Flash creation tool, Flypaper for Lectora. Flypaper enables eLearning developers to create and edit Flash content at a fraction of typical development time. Working with TechSmith Corporation also made it possible to offer Camtasia for Lectora and Snagit for Lectora with Lectora Inspire. Training professionals can use the integrated solution to create and edit screen recordings, screen captures and videos. Lectora Inspire also includes the well-known features and benefits of Lectora Publisher, plus new enhancements for ease-of-use.
Companies around the world continue to realize the benefits of Lectora Inspire. "We are a global company. It is critical for us to standardize our tools and processes for training development across the globe," said Andy McGuire, Director of Global Learning & Development at Cummins Inc. "To accomplish this goal, we chose Lectora Inspire. With its ease of use and power, Lectora Inspire has become our primary eLearning development tool for internal as well as external development."
Lectora Inspire bridges the gap between authoring and publishing and the tasks related to creating multimedia content for eLearning courses. Typically authors have multiple applications and projects open on the desktop and must take extra steps to export, import and maintain file versions. The value of having these excellent tools in an integrated eLearning authoring environment provides a new level of time and cost savings for training organizations seeking to develop eLearning courses at an accelerated pace.
To download a free 30-day trial of Lectora Inspire or to view a live demonstration, please visit http://www.trivantis.com/lectora-inspire.
###