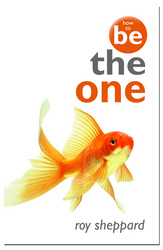 "In the same way that we would study and prepare for an important job interview, you can do the same to prepare for a great future relationship."
New York, NY (PRWEB) February 13, 2011
For millions of men and women, Valentine's Day isn't the best day of their year. It's a stark reminder to those who'd prefer to be in a long-term, happy and loving relationship that they are not.
Says Roy Sheppard author of the new book "How to Be The One" "In the same way that we would study and prepare for an important job interview, you can do the same to prepare for a great future relationship. I set out to take a completely different view about relationships and have uncovered so many ways that single people (and a lot who are married) unwittingly sabotage their chances of success. They follow so-called 'Rules' which, quite frankly encourage you to treat people as if they are the enemy – not your potential best friend. "
He adds "We build long lists of qualities we demand from those we date, yet almost never take even a moment to ask ourselves how many of those same qualities we possess ourselves.
Anyone who is really serious about having a meaningful relationship can do SO much to becoming a much more appealing person – firstly to themselves and then to others. "
So, if you want to receive a sack load of Valentine cards next year (or just one from that special person you have yet to meet), invest your time now by adopting these tips taken from "How to Be The One".

Decide to BE the person you would most want to be in a relationship. For example, if you want someone kind – become a genuinely kind person yourself.
When you've perfected the ability to look 'hot', you'll attract a lot of attention, but often from the 'wrong' types who only want to 'borrow' you! There's far too much emphasis on looking 'hot' instead of being a 'warm' person. Just be friendly with everyone. Especially people you don't fancy. Have no agenda. People will be attracted to you like a magnet – for who you are – not the illusion you've so skilfully created.
If you're a high-maintenance person because you've convinced yourself that you're 'worth it', most well-balanced people will eventually conclude that you're too much trouble. You are the most likely type of person to become the 'ex' in the word 'next'. It's been said that "When you're wrapped up in yourself, you make for a very small parcel."
Stop ALL game playing. It fools you into believing that you're somehow protecting yourself from getting hurt emotionally. Or it makes you feel more clever than the person you're 'playing'. It never works long-term.
Learn to enjoy life as it is, rather than comparing it to the fantasy (and that perfect partner) you've created in your head. Stop thinking about the way you believe your life 'should' be.
Focus your time and energy on being a genuinely happy person in yourself, rather than expecting someone else to make you happy. Neediness is never appealing.
If you'd like to know more about Roy Sheppard's different approach to relationships visit http://www.BeTheOneBook.com. "How to Be The One" is also available from all good bookstores.
For a limited time, customers who order How To Be The One via the website will receive a free copy of the How to Be The One Daily Stop-Start Reminders (while supplies last). This pocket-sized Emotional Fitness Workout book gives hundreds of daily reminders and tips to keep you on your path to finding and keeping 'the one.'
How To Be The One has been featured as a lead story on CNN.com's Living section , as well as on Lemondrop.com and YourTango.com.
International coverage has included YOU, the UK's largest circulation women's magazine, Bella magazine, More! magazine, and India's We Women Today. BBC radio interviews and various other articles can be found at http://www.BeTheOneBook.com
Roy Sheppard is a skilled conference moderator and speaker on all aspects of relationships. A former radio and TV broadcaster for the BBC, he trained as a therapist in 1994. Visit Roy's website: http://www.RoySpeaks.com
Visit the web media page http://www.BeTheOneBook.com/137media for more information and downloadable extracts from this book.
Questions Roy Sheppard has been asked by journalists from around the world and his written answers have been compiled here: http://www.BeTheOneBook.com/RSInt
For more information, review copies or to arrange an interview with Roy Sheppard, please contact Melissa Braverman in New York. Email: mbraverman(at)earthlink(dot)net. Phone: 212 737 2976.
###