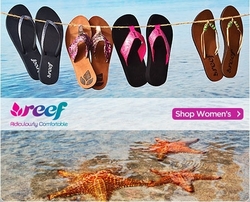 We couldn't be more excited about carrying Reef sandals and casual shoes. They are some of our staff's all-time favorites – we see lots of them around the office every day.
Dallas, TX (PRWEB) February 15, 2011
SHOEBACCA.COM, a leader in the online footwear market, is excited to add the Reef brand to their ever-growing assortment of shoes geared towards an active lifestyle.
"We couldn't be more excited about carrying Reef sandals and casual shoes. They are some of our staff's all-time favorites – we see lots of them around the office every day," says Tim Siemers, Director of Marketing at SHOEBACCA.COM.
Some of Reef's most popular styles at SHOEBACCA.COM include the men's Deck Hand 2, a canvas shoe with a rubber outsole that provides great wet or dry traction, while the molded insole cradles your foot for non-stop comfort.
The men's Fanning sandal, with its cushioned footbed and arch support gives you some of the most stylish support around. Plus, the bottom of the shoe has a bottle opener. Who wouldn't want that?
The women's Butter 2, a smooth leather sandal with just a hint of heel, is stylish enough for a night out on the town, but practical enough for a long, active day.
Maybe you want a simple, no-fuss sandal? The women's Ginger is just the thing. Simple, sleek, and comfy.
Reef brand footwear fits right in at SHOEBACCA.COM, where getting your family geared up for a healthy, active lifestyle is top priority.
About Reef:
Reef got its start twenty-five years ago by two entrepreneurial brothers who shared a love of surfing and the laid-back California lifestyle. Their vision was to create a sandal unmatched in comfort, perfect for spending long days at the beach.
Today, Reef is one of the world's leading sandal brands for men, women, and kids. Their product line has expanded to include swimwear, cover-ups, and beach accessories. And to show they care, the Reef Redemption program was recently launched to help lessen the company's impact on the environment.
Anyone who has ever worn a pair of Reef sandals or casual shoes knows that their slogan, "Ridiculously Comfortable," is not an exaggeration. Whether you're hanging ten on the beach or running errands in the heart of the city, your feet will thank you for slipping on your Reefs before you walk out the door.
About the contest:
Now you have a chance to score a free pair of Reef sandals in the SHOEBACCA.COM "Love Your Reefs" contest. Simply click here and leave us a comment about your ideal dream destination where you'd like to wear your Reefs. The contest ends on February 28th, 2011 at 11:59 PM CST. On March 1st, 2011, five lucky winners chosen randomly from the comments will receive a pair of Reef sandals – on the house. Where you choose to wear them is up to you. Open to US residents only. No purchase necessary to win. Limit one entry per person. Please check the site for complete contest rules and restrictions.
About SHOEBACCA.COM:
SHOEBACCA.COM is a full-scale online retail footwear company dedicated to helping customers and their families lead active, healthy lifestyles. SHOEBACCA.COM boasts an impressive selection of athletic and outdoor footwear, apparel, bags, sunglasses, and gear. Customers can find what they want quickly and easily with SHOEBACCA.COM's custom filtration technology, while the security of the SHOEBACCA.COM website makes shopping online worry-free. SHOEBACCA.COM also offers free ground shipping, free returns, 110% price matching, and unparalleled customer service. SHOEBACCA.COM always guarantees complete customer satisfaction.
Demonstrating their passion for community involvement, SHOEBACCA.COM has worked with various charities, including Soles4Souls, American Cancer Society, Salvation Army, National MS Society, and The Boys and Girls Clubs of America. SHOEBACCA.COM has participated in numerous charity events, such as Relay for Life and the Bike MS Bay to Bay Tour, and continues to look for ways to give back to their community.
With tens of thousands of styles from the world's most popular brands, it's easy to find your SOLE mate at SHOEBACCA.COM.
# # #