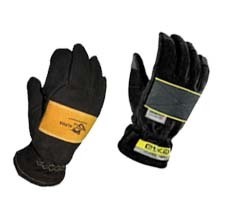 Many fire departments across the country are reviewing the effectiveness of their fire gloves
Neptune, NJ (PRWEB) February 14, 2011
Firefighter gloves came to the forefront of concern in New York after six firefighters suffered second degree burns to their hands. These burns occurred while firefighters were suppressing fires over a three month period in NYC.
The Blaze Fighter glove was compliant to NFPA standards during its testing in New York City. However, in light of the injuries, an examination was performed by an independent expert and it was determined that the material used to construct the glove no longer met the NFPA requirements.
As a result the fire department has directed their members to use the previously issued fire glove, the Fireguard Commander Glove. The fire department is in the process of identifying replacement fire gloves for their 11,500 firefighters and officers.
The situation has not just affected firefighters in New York City. Many departments across the United States and Canada accepted the recommendations of the city's Research & Development team – their examination, assessment and field testing – to identify safe, reliable and durable equipment for themselves. In this instance, many (individual) firefighters and fire departments purchased the Blaze Firefighter glove because 'that's what the city chose'.
One provider of Fire Gloves has recognized this situation and the impact it is having on the nation's fire service. All Hands Fire Equipment, based in New Jersey, announced on February 11, 2011, that they are extending a 10% off discount on their complete line of Structural Firefighting Gloves. Possible replacements for the Blaze Firefighter Glove include the Fireguard Commander glove, Southcombe Firemaster glove, Fireman's Shield and Dragon Fire gloves, and ESKA fire glove. More information on these and other fire gloves may be obtained by visiting AllHandsFire.com.
# # #