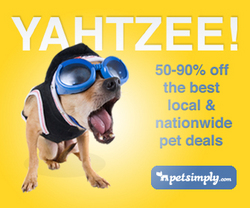 The mission of PetSimply.com is to help those who help pets.
Kissimmee, FL (PRWEB) February 15, 2011
It looks like your pets can now get in on the savings. Similar to Groupon, the newly launched PetSimply.com finds the best hidden pet businesses and products and features them to you each day, at 50-90% off. They scour the country for the best boutiques, gourmet treats, toys, fashion, meds, supplies, and food.
Beginning Monday, PetSimply.com will launch daily deals aimed at saving you 50-90% on your pet-care needs. Dog, cat, fish or chinchilla, PetSimply.com finds deals for even the rarest of pets.
PetSimply.com also gives back to the community, enabling pet lovers to love their pets even more. Launched by lifelong pet-lovers, PetSimply.com knows the joy that comes with happy animals. That is why they give back to the community. They recently ran "Vote to Give Back," an online campaign to give a selected pet charity a donation. The winning charity was decided by the online community at PetSimply.com. This campaign and others like it will be a main focus of PetSimply.com. Their mission is to help those who help pets. The strong emphasis on community comes with the pet territory.
The PetSimply.com's online community plays a part in deciding which pet deals are offered, which pet charities are helped, and even which pet owners are spotlighted. In addition, when users become a part of the PetSimply community, either through the site or on their Facebook page, they qualify for $50 if PetSimply.com runs a deal with that subscriber's favorite company. As their website states, "Suggest a business and score $50."
Perhaps the greatest convenience that PetSimply.com brings is its widespread, yet local, focus. "Everybody, nationwide, will have a deal from the start," explains the PetSimply.com co-founders. "We will add local deals as we spread to each city, and that's an important difference between us and other daily deal sites."
For more information about PetSimply.com, or to sign up for daily deals of 50-90% off of your pet's needs, visit their website at http://www.PetSimply.com. You can also sign up for Facebook and Twitter updates at http://www.facebook.com/petsimply and http://www.twitter.com/petsimply.
###