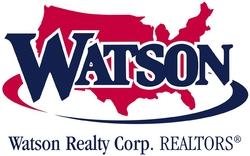 Leverage Watson to Your Advantage.
Jacksonville, FL (PRWEB) February 14, 2011
Watson Relocation Services is pleased to announce its outstanding achievers for the year of 2010. The Award of Excellence for the Central Florida Region was presented to the Watson Realty Corp. Maitland office.
"We are thrilled to have earned this prestigious award. It is an exciting privilege to assist buyers and sellers with their real estate needs all over the world," shared Managing Broker Matthew Audier, GRI, CDPE, REALTOR®, Watson Realty Corp. Maitland office.
Watson Relocation Services (http://www.WatsonRealtyCorp.com) is a two-time winner of Leading Real Estate Companies of the World® coveted Diamond Award, and recipient of the prestigious RELO Quality Certification® (RQC) designation. The Diamond Award is the network's highest award for achievements nationwide. The RQC quantifies and qualifies relocation service excellence to recognize only those companies whose relocation departments have achieved true distinction in virtually every aspect of the relocation process. To date, less than 40 companies worldwide have received this designation.
About Watson Realty Corp., REALTORS®
Watson Realty Corp. (http://www.WatsonRealtyCorp.com) has been a trusted name in real estate since 1965. Watson Realty is a full-service real estate company with more than 1,200 sales associates and 41 sales offices throughout Northeast and Central Florida, as well as St. Marys, Georgia. Services include Watson Mortgage Corp., Watson New Homes Division, Watson Title Services, Watson Title Services of Northeast Florida Inc., Watson Commercial Realty Inc., Watson School of Real Estate, Watson Referral Realty Inc., Watson Property Management, Watson Maintenance Services and Watson Relocation Services. Watson Relocation Services has offices in both Jacksonville and Orlando.
# # #