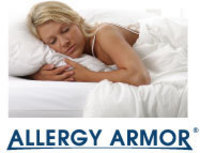 "Get allergy covers." - Dr. Paul Rabinowitz
Altanta, GA (PRWEB) February 12, 2011
This month, allergy relief products source AchooAllergy.com holds its third annual White Sale. All allergy bedding products, including pillows, blankets, sheets, comforters, and mattresses are 20 percent off with the code wht2011 at checkout.
Many allergists agree that allergy relief bedding, also known as mattress covers, mattress encasings, etc., is the first line of defense when implementing an allergen avoidance regimen at home. When asked what one thing he would recommend for his patients, Dr. Paul Rabinowitz of Allergy and Asthma Consultants in Atlanta states, "Get allergy covers."
In fact, allergy bedding is what prompted founder and CEO P. Cade McDonald to start AchooAllergy.com in the first place. "After years of struggling with allergies, I finally went to see an allergist. He recommended I try allergy bedding, so I did, and I was astounded at the difference it made in my allergies. I wanted others to experience the same kind of allergy relief, so I started a company whose mission it is to help people breathe better. A big part of this company is spreading awareness about how allergy relief bedding can improve quality of life for those with allergies."
AchooAllergy.com's commitment to allergy bedding goes even further: The company has developed its own proprietary allergy relief bedding, Allergy Armor™, which boasts the smallest pore size in the industry, and comes in a variety of options to suit particular needs. For instance, Allergy Armor™ Organic is made from the only organic cotton dust mite barrier fabric in the United States. Allergy Armor™ Bed Bug, with its impenetrable membrane and self-locking zipper, is specially constructed to deal with bed bugs. And Allergy Armor™ Classic is their lowest cost option that's also protects mattresses from bed-wetting incidents.
In addition to allergy covers, AchooAllergy.com's Allergy Bedding White Sale offers a discount on Allergy Armor™ blankets, which hold up to multiple washings without wear and tear, and Allergy Armor™ pillows, which are wrapped in allergen barrier fabric. Additional products of varying brands are also discounted, including Ogallala and PrimaLoft hypoallergenic down pillows and comforters, Royal-Pedic mattresses, and Coyuchi organic bedding, among others.
AchooAllergy.com specializes in allergy relief products that facilitate environmental control of allergens. For ten years, the company has been proud to offer the widest selection of allergy relief products, all meticulously tested for quality and effectiveness. Their super-fast shipping and exceptional customer service sets them apart from their competitors and demonstrates their unwavering dedication to helping their clients breathe better.
###