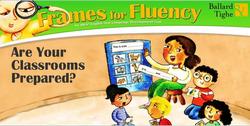 ...research supports the need for oral language emphasis in ELD/ESL instruction.
Brea, CA (PRWEB) February 14, 2011
Educators might be asking themselves if oral language development is "in" or "out" in their English language development (ELD) classroom. A white paper released by Ballard & Tighe, Publishers finds that research supports the need for oral language emphasis in ELD/ESL instruction. The current surge in popularity of oral language instruction emphasizes academic oral language, sometimes referred to as "oracy." This language is more structured than informal oral language, and therefore it forms a perfect bridge between oracy and literacy.
In the research-based report, "Strategic Oral Language Instruction in ELD: Teaching Oracy to Develop Literacy," the authors recommend that oral language instruction for English language learners (ELL) have the following characteristics:

Be systematic and structured
Contain vocabulary development that is relevant, rigorous, and rich
Include explicit practice of key grammatical forms that are embedded in the functions of language
Support language rehearsal in an engaging and meaningful context presented by the teacher modeling and guiding language structures
Provide multiple opportunities to rehearse language involving interactive and task-based activities
The paper draws from a cadre of renowned ELL researchers and synthesizes key findings on oral language development from a recently published book by the California Department of Education titled, Improving Education for English Learners: Research-Based Approaches. The paper also serves as the research base for Ballard & Tighe's new teacher toolkit, Frames for Fluency.
To download a free copy and see a video briefly summarizing the white paper's findings, visit http://www.framesforfluency.com and click on the "WHY" button.
About Ballard & Tighe
Ballard & Tighe, Publishers (http://www.ballard-tighe.com) has focused on developing products for English language learners since 1976. Ballard & Tighe produces assessment products and English language development materials that are used in more than 3,500 school districts throughout the U.S. and internationally.
Contact: Khoi Nguyen, Ballard & Tighe, Publishers, 714.990.4332 / knguyen(at)ballard-tighe(dot)com
###