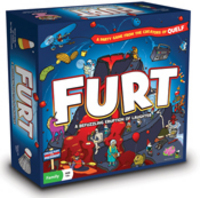 "This game is designed to fill the huge gaping hole in the board game industry that was just begging for funnier, better board games," said FURT creator Matthew Rivaldi.
San Diego, CA (PRWEB) February 11, 2011
In Wiggity Bang Games new party game FURT, for ages 14 and up, players race to be first INTO the fiery mouth of the FURT volcano with each roll of the color-coded die. They might find themselves doing things like turning up the music, impersonating a stamp collector, challenging someone to a dance-off, or acting like a sugar donut just to name a few things.
FURT has six unique categories that ask players to unleash their hidden talents, reveal things about themselves and crank up their imaginations, including:
Dear Diary – Players will have to ramble off a diary entry out loud that starts with the phrase on their card and includes two words drawn from FURT volcano cup.
Straight-Faced – One player has to keep a straight face while the timer runs and the other players verbally assault them with their own funny words.
Guess What? – Players can show off their drawing, acting or descriptive talents to try to get the other players to guess a word or phrase drawn from the volcano.
Truth or Fiction? – Players make up a statement about themselves using the phrase on the card. Is it truth or fiction? The other players must guess.
You Are – In this category players are not themselves. Their card will tell them who to be for 30 seconds – anyone from a waitress in a busy diner to an architect building a skyscraper from hot dog buns.
What The?! – When players roll a blue, they'll get a top secret What The?! card that they must do sometime before their next turn. It could be anything from outrageous to annoying to downright weird.
In addition to the cards, FURT has some other wacky components in play:
Hot Spots on the board have players doing things like contradicting everything another player says, talking like a trucker on a CB radio or speaking in a foreign accent, among other things, while they are on those spaces.
The Volcano Cup is filled to the brim with Funny Word Cards that help players complete their cards.
Players win by being the first to make it to the mouth of the FURT volcano and once there withstanding a Straight-Faced Challenge, in which other players take turns saying funny words to try and make them laugh.
FURT creator Matthew Rivaldi said, "This game is designed to fill the huge gaping hole in the board game industry that was just begging for funnier, better board games. People are funny and we're just helping them realize their full potential, at least while they're playing this game."
FURT is perfect for game nights, girls' nights, family get-togethers, road trips to Vegas, frozen winter evenings in the Midwest, lazy days poolside, high school detention, prison riots, peace treaty talks, jury duty and any other gathering that needs a good laugh added into the mix.
FURT will have a suggested retail price of $29.95 and will be available in May 2011. http://www.wiggitybang.com.
About Wiggity Bang Games
Wiggity Bang Games LLC was founded on the belief that a sense of humor is the key that unlocks the universe. WBG launched the multiple award-winning board game Quelf in 2005. Close on its heels came Quelf Jr., a game for kids 6 and up, and QUAO, the Ultimate Dictatorship Card Game.
In today's world where tech gadgets sometimes replace human contact, WBG games encourage friends and families to come together to talk, play, laugh and most importantly, have fun.
###