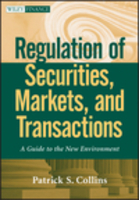 Hoboken, New Jersey (PRWEB) February 13, 2011
John Wiley & Sons, Inc. - Before the Wall Street Crash of 1929, there was little regulation of securities in the United States at the Federal level. The crash spurred the Congress to hold hearings, and pass the Securities Act of 1933. Since then, there were seven more principal United States federal statutes in the area of securities regulation and countless amendments to these regulations. In fact, securities laws, securities regulations, and the rules of self-regulatory organizations are changed often. Some of these changes are driven by the normal course of competition and innovation between and within markets, by advances in the technologies that support the operations of markets, or by the global integration of markets. Other changes, such as those that followed the banking turmoil of 2007—2008, are a response to the sudden release of pressures accumulated over a period of years. For a clear explanation of these regulations, John Wiley & Sons is releasing REGULATION OF SECURITIES, MARKETS, AND TRANSACTIONS: A Guide to the New Environment (Available Now, 2011; $95.00), the ultimate guide to the current rules and regulations that govern the securities industry, including the most recent amendments in 2010.
Providing readers with expert coverage of domestic securities regulation, this book offers complete coverage of securities regulations, defining, describing, and explaining everything professionals need to know about domestic securities regulation. REGULATION OF SECURITIES, MARKETS, AND TRANSACTIONS is essential reading for professionals in the banking, insurance, or securities industries, as well as those employed by a government agency that regulates these industries. With in-depth discussion of the Financial Regulation Act of 2010, this timely resource provides critical guidance of the latest regulations for this industry at readers' fingertips. Adding value beyond a reference, author Patrick Collins defines, describes, and explains domestic securities regulation, preparing professionals to understand the latest securities laws, with thorough coverage of:
•Securities and the public interest
•Non-securities laws
•Accounting capital and regulatory capital
•Regulation and supervision
•Regulation of registered entities and persons
•Objectives-oriented rules for accounting and auditing
A useful introductory handbook for broker-dealers, compliance officers, accountants and attorneys who provide services to the securities industry, REGULATION OF SECURITIES, MARKETS, AND TRANSACTIONS is the guide for understanding the government regulation of securities, securities markets, and securities transactions in the United States.
ABOUT THE AUTHOR:
Patrick S. Collins (Santa Fe, NM) has over 30 years' experience in domestic and foreign financial markets. He has worked in the financial futures markets and was a senior officer of securities companies in London, New York, and Hong Kong. He was the managing director (chief executive officer) of a brokerage company in London, a senior vice president of a New York-based primary dealer in government securities, and the executive director (chief operating officer) of a broker in Hong Kong. In addition, he has been a financial-markets consultant where he advised banks, broker-dealers, exchanges, settlement facilities, and securities regulators in Argentina, Czech Republic, Egypt, Hong Kong, India, Russia, South Africa, Thailand, and the United Kingdom.
REGULATION OF SECURITIES, MARKETS, AND TRANSACTIONS
A Guide to the New Environment
Published by John Wiley & Sons, Inc.
Publication date: Available Now
$95.00; Hardcover; 364 pages; ISBN: 978-0-470-60196-9
# # #