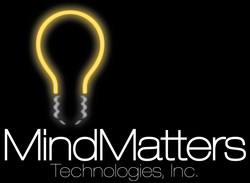 By using MindMatter's Flagpole tools, we hope to capture great ideas and act on them much more effectively
Canonsburg, PA (PRWEB) February 14, 2011
Health Care companies are on an important, yet endless quest to make improvements, achieve efficiency, and provide the best care possible for their patients. At the core of this pursuit lies the critical need to innovate. For many organizations, this starts with managing ideas and feedback from stakeholders such as employees, patients, and partners - a process that can be both difficult and expensive.
MindMatters, based in Canonsburg, PA, aims to eliminate this barrier for Health Care organizations. Their solutions help to guide companies along the pathway to better innovation by tapping into latent ideas and expertise and making it actionable. Using their tools, Health Care groups can solve problems and improve operations in ways never realized before. MindMatters recently announced their signing of several new customers in this area.
At Asante Health System, leadership was searching for the best way to leverage employee wisdom and improve overall engagement. Headquartered in Medford, Oregon, the not-for-profit medical care provider serves Southern Oregon and parts of Northern California. They recently purchased MindMatters' Flagpole software to put a management process in place for sharing ideas and potential innovations.
Gregg Edwards, Chief People Officer for Asante, recognizes the impact of employee suggestions and better employee engagement. "By using MindMatter's Flagpole tools, Asante hopes to capture great ideas and act on them much more effectively. This will allow us to not only capitalize on the brilliance of our employees, but also to collaborate on organizational issues in a much more engaging, satisfying way. For both Asante's leadership and its employees, we look for this to be a highly valuable program."
University of Utah manages the state's Poison Control Center in Salt Lake City. In order to provide the fastest, most effective care possible, it's important for the Utah PCC to collaborate with other centers in the National Poison Control system. To accomplish this, their team will use Flagpole to connect to about 50 other Poison Control Centers across the US to share knowledge, solve problems, and socialize best practices. This knowledge sharing endeavor will help create a standard set of "lesson plans" to help educate Posion Control specialists preparing for accreditation. The result will be better-euipped Poison Control Center agents delivering faster, more accurate care around the country.
The project is being guided by Kelly Teemant from the University of Utah's College of Pharmacy who stated, "Flagpole offers novel social marketing techniques to partner and collaborate with the National Poison Control Center community. We are excited to utilize the power and knowledge of the crowd in developing our project," said Teemant.
According to MindMatters, their customers and clients, including, many top Health Care organizations, use their tools in a variety of ways to solve issues, find improvements, share ideas, and increase innovation.
About MindMatters
For over a decade, MindMatters has been a leading provider of Innovation Management Solutions for the enterprise. Built on a flexible, adaptive platform, our suite has helped companies build better innovation pipelines, improve practices, find efficiencies and increase revenue.
Industry leaders like Sony, 3M, and PPG use MindMatters' solutions every day to manage the highly complex innovation process. For more information, visit: http://www.us-mindmatters.com or call (724) 743-4242 ext 21.
###