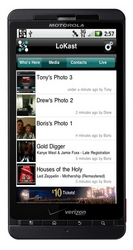 By marrying the spirit of LoKast's local-casting and AllJoyn's instant device-to-device discovery and fast media transfers, we are able to demonstrate a truly instant social network for the physical world.
Barcelona, Spain (PRWEB) February 14, 2011
NearVerse today announced they will be demonstrating a new milestone in peer-to-peer wireless technology and the "physical web" at the Mobile World Congress taking place in Barcelona, Spain. Already a popular app on Android and iPhone devices, NearVerse's LoKast app lets users share and discover music, pictures, videos, contacts, and web links with other users who are physically in the same location. Qualcomm Innovation Center's AllJoyn technology provides the framework for devices to seamlessly discover and connect to one another when within range using Bluetooth or Wi-Fi. Designed to be radio technology and OS agnostic, AllJoyn provided NearVerse the necessary tools to easily integrate this peer-to-peer functionality. Now NearVerse is unveiling the next generation of LoKast as a true "instant social network for the physical world," as well as revealing how simply and effectively AllJoyn's peer-to-peer technology can be used to power this groundbreaking service.
Using AllJoyn, LoKast's Android users can also now find and connect with each other using Wi-Fi or Bluetooth. Previously, LoKast relied on only geofencing technology and 3G networks for its service on Android devices. LoKast can now discover nearby Android devices almost instantly and with much greater precision, share media significantly faster, and manage their connections without user intervention, matching the type of spontaneity and immediacy we are used to in the physical world.
The LoKast demo will be available in Qualcomm's booth at MWC (Exhibit Hall 8, Booth #8B53). Conference goers can use the LoKast app to instantly discover other LoKast app users in the booth, chat and send messages between each other, and share photos, videos, contacts, music links, and web links through this "instant social network". Users will also broadcast media to others through a so-called Live Feed channel which functions much like a live TV show but in this case for a side-by-side media flip-through. With this type of "instant and transparent" experience that AllJoyn enables, LoKast users will not require "invites," "follows," or "addresses" and instead will immediately find and interact with each other strictly by being nearby. LoKast now is delivering an experience that's a true compliment to the physical world of "hand-shakes," "my-name-is-blanks," and "here-are-my-business-cards-and-product-demos".
"By marrying the spirit of LoKast's local-casting and AllJoyn's instant device-to-device discovery and fast media transfers, we are able to demonstrate a truly instant social network for the physical world," states Boris Bogatin, CEO of LoKast parent company NearVerse. "By eliminating the need for wires, prior relationships, or address-based messaging and media delivery, we are using LoKast and AllJoyn to digitally connect users in the same way that they are already used to connecting in the physical world. And that's very powerful".
"We believe that communications between nearby devices without the use of an intermediate server will play an important part in defining the 'always connected' user experience in mobile Internet," says Matt Michael, product manager at Qualcomm Incorporated. "With AllJoyn, we've created a powerful and robust, yet simple, way for developers to incorporate proximity-based device-to-device connections without having to understand wireless networking or radio technologies. NearVerse was able to quickly integrate the recently launched AllJoyn SDK into LoKast, demonstrating just how simple it is to incorporate peer-to-peer wireless networking using AllJoyn."
Following LoKast's debut at SXSW 2010 and coining of the term "disposable social networking," they have been embraced by mobile users for fast, group media sharing. LoKast has been downloaded by hundreds of thousands of users, and also been adopted by various music, event, and media groups as their "digital stage" experience platform. As a "digital stage", LoKast has been used to release exclusive photo, video, and music content right to live audiences and to encourage audiences to interact with each other through rich media, including through use by notable music bands like The Boxer Rebellion, Truth & Salvage, and Third Eye Blind at their live shows. Now NearVerse is working with leading handset OEMs and wireless operators to take LoKast mass market and offer their customers a platform for instant social networking in the physical world.
About NearVerse
NearVerse is a proximity Internet company and the maker of LoKast. LoKast allows users to instantly discover, message, and share media with others who are in the same physical location, using their mobile phones – an instant social network for the physical world. LoKast is powered by NearVerse's proximity Internet platform that combines carrier and short-range wireless technologies to support real-time and high-precision discovery of users, high-speed media sharing and content delivery that's 5-10x faster than that of 3G networks, and rich immersive functionality designed specifically for the physical web. NearVerse is based in New York City, New York. For additional information, learn more about LoKast at http://www.lokast.com and download the iPhone or Android app, or visit NearVerse at http://www.nearverse.com.
NearVerse PR Contact:
press(at)nearverse(dot)com
(347) 770-NEAR
Twitter: @NearVerse
NearVerse and LoKast are registered trademarks of NearVerse, Inc. Qualcomm is a registered trademark of Qualcomm Incorporated. AllJoyn is a trademark of Qualcomm Incorporated. All other trademarks are the property of their respective owners.
# # #