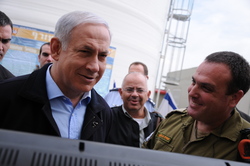 The cellular telephone that could replace the sirens we are accustomed to hear is much more focused. We could reach the same citizens and reduce disturbances in the country, and increase our advantage in protecting Israelis in various situations
(PRWEB) February 13, 2011
Tel Aviv, Israel, in frame of presentation of its general capabilities with regards to public safety, security and emergency preparedness, the IDF Home Front Command has presented to Prime Minister Benjamin Netanyahu among others also the eVigilo emergency alert aggregator called IADC, his latest achievement with regards to the population's emergency alert and notification based on cell broadcast technology, which is part of the national project "Personal Message".
Delivered by eVigilo, the US CMAS (or EU-Alert) equivalent "Personal Message" is Israel's national project for emergency alert and notification based on cell broadcast technology. "Personal Message" project is the first block within an array consisting of geo-targeted notifications sent simultaneously across different channels such as mobile networks, television, sirens, pagers, IP, digital signage, desktop and others.
Prime Minister Benjamin Netanyahu has said: "We produce impressive capabilities here, among the leading in the world, in order to deal with a range of challenges. The strengths here are impressive. I believe that they contribute to our national fortitude, deterrent ability and resilience; we will continue to develop them. For example, the cellular telephone that could replace the sirens we are accustomed to hear is much more focused. We could reach the same citizens and reduce disturbances in the country, and increase our advantage in protecting Israelis in various situations."
eVigilo CEO Guy Weiss has said: "We are thrilled and honored to be the central part of Israel's achievement to deliver cell broadcast based emergency notifications to the population. A personal alert via cell broadcast to devices is just the first stage. Future plans call for eVigilo's IADC to be at the core of a multi-application alert program called 'National Message,' equivalent to the IPAWS program in the US. This will include Internet, siren systems, TV (DVB), radio (DAB), telephony, fax, emails, desktop and pagers."
About eVigilo
eVigilo develops the industry's only fully integrated, multi-technology mass alert platform that can reach millions of people in just seconds – to enhance safety and security and save lives in emergency situations. Supporting multi-channel alert notification and communication, the holistic, flexible Alert Integrated Alert Distribution Center (IADC) Platform is the most effective and efficient turnkey solution for mass alert systems used by governments, homeland security and rescue forces, educational institutions, energy companies, industry and public utilities. eVigilo is managed by its founders and backed by a high caliber, experienced team of security and software professionals. For more information, please visit us at: http://www.evigilo.net
# # #