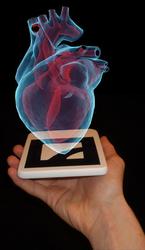 Students have learned more and grasped more in Augmented Reality in a shorter period of time than in previous lessons from a traditional classroom ______________________  Jessica Desjadon---- Science Teacher Middle School
Tempe, AZ (PRWEB) February 16, 2011
Digital Tech Frontier, Inc. (DTF), a leader and pioneer in interactive educational technology, showcased the captivating ARDL at the TCEA 2011 Convention & Exposition on February 7th-11th at the Austin Convention Center. The convention engaged attendees with a week full of astounding professional development with hands-on and peer-to-peer learning opportunities, exploration of new trends through interactive learning environments, in-depth presentations from leading educational technology experts, and inspiring keynote speakers. Touted as the place to be by attendees, TCEA's five-day convention is one of the largest educational technology conventions in the country and the largest in Texas.
TCEA let attendees explore new trends for innovating the classroom learning experience with more than 100 workshops and 300 concurrent sessions from the basics to industry-leading trends in educational technology. Exhibitors wanted to show off their goods to educators and administrators who want to increase technology in their classrooms, schools, and districts.
The Augmented Reality Development Lab (ARDL) was an absolute success as it led the show in drawing the attention of major educators, administrators, and key decision makers. The ARDL was created to provide a classroom environment of the future, where students from around the world learn by sharing and creating Augmented Reality (AR) experiences. Utilizing technology, students will explore curriculum that they have only imagined, communicating and interacting with other students to support their journey and exploration. With the release of ARDL, not only are Augmented Reality capabilities available to students, but they can create it themselves. ARDL is the fusion of cutting-edge technology with the commitment to exceptional thought provoking education.
President Scott Jochim of DTF stunned the crowds with his interactive and immersive presentations that really displayed the unlimited potential and vast applications of AR in the classroom. Through his simple to use intuitive interface, attendees had the opportunity to firsthand experience this educational technology of the future that uses a pc, web camera, and paddle to display virtual 3D objects that are great at conveying spatial and temporal concepts for kinesthetic and visual learners. It allows users to erupt a volcano without the danger, pull a part a beating heart, separate a molecule, or become the animal kingdom. Scott Jochim ignited the curiosity of the endless possibilities that can be created with the ARDL and its simple module builder. They currently have a large database of modules strictly designed off of K-12 approved curriculum for various subject areas as Earth Science, Math, Biology, Social Studies, Chemistry, and much more. It allows the students to learn not just effortlessly, but enthusiastically with the curriculum in the palm of their hand.
The TCEA annual convention was an immense success for all the exhibitors, speakers and the attendees. It was a breeding ground for educational innovation of the future. Help us create the wave of educational technology of the future one step at a time. See you at TCEA 2012!
About Digital Tech Frontier
Phoenix-based Digital Tech Frontier (DTF) is an industry leader and pioneer in the development of interactive educational technology. DTF is the largest ditributor of educational virtual reality equipment through out the United States. They have developed the first immersive Augmented Reality learning application that is being utlilized in K-12 classrooms as well as at the collegiant level. Over the last 15 years they have has numerous national corporate customers including: Disney, AT&T, Honeywell, Hyatt Regency, 21st Century Fox, Nokia Communications, ServiceMaster, Exxon, Budweiser, Thompson Newspapers, Allstate Insurance, Chase Bank and IBM. Founded in 1996, DTF's innovative technologies have been featured in Business Week, Popular Science, Time, and Wired magazine. Visit us at http://www.digitaltechfrontier.com.
###