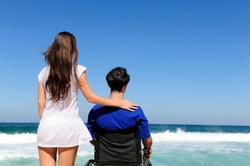 "I wanted to create something that gives disabled singles the ease and affordability of online dating combined with the personal and customized help of a professional matchmaker and dating coach", said CEO Ann Robbins. "No other site does this".
Fort Lauderdale, FL (PRWEB) February 14, 2011
A new concept in dating and matchmaking has been created by LifeWorks Matchmaking LLC, a premier personal matchmaking firm, announced CEO Ann Robbins. Geared toward helping disabled singles meet, eDateAbility combines the best of personal matchmaking and online dating, creating a completely new and unique experience for the user.
The concept came about when Robbins, a Certified Professional Matchmaker and Master Certified Relationship Coach had, what she has called, a life-changing experience. She matched two singles with disabilities in her private matchmaking practice which, she says, had a profound impact on her. "I cannot express the huge reward and satisfaction I felt in introducing them to each other. Truly, they never would have met otherwise. In doing this, I became acutely aware of the difficulties those with disabilities face when trying to navigate the singles world. I decided to make it my mission to help them. It was a life-changing experience for me", she says.
In addition to meeting other disabled singles online, members can "Ask The Coach" for personal help in relationships and dating uncertainty. "We work with our members one-on-one in the areas of profile writing, date coaching, relationship questions and other areas that challenge today's singles," says Robbins. Members can even request an "interview with the matchmaker."
The website has a blog and offers relationship and date coaching. Robbins says her goal is to create a holistic experience for eDateAbility's members that also includes webinars. Member feedback and questions are encouraged. Answers to questions are posted weekly on the blog.
# # #