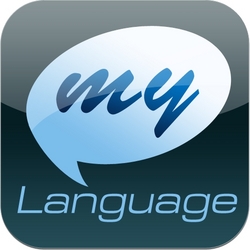 San Jose, CA (PRWEB) February 13, 2011
myLanguage, the fastest-growing language translation app and learning tool, makes it possible for the entire world to communicate affection, no matter what language you speak. This Valentine's Day, show someone how much you love them by taking time to say it in their native tongue, or in their favorite language.
The myLanguage app makes it both fun and easy to translate and learn more than 55 languages and many dialects on the fly right from your iPhone or Android device. Unlike overpriced software products like Rosetta Stone, myLanguage goes with you out into the wild on the world's most popular and best-selling consumer electronics device - the mobile phone.
"Je t'aime, Te Amo, Ich liebe dich, 我爱你, or I love you, however you want to say it, our mission at myLanguage is to make it easier than ever to learn new languages in the most immersive way possible, out in the real world backed with the confidence of knowing the myLanguage app is in your pocket on your favorite mobile device," said Andrew Lauder, CEO and founder of myLanguage, Inc.
The company produced a conceptual video to share in social media so that anyone - from anywhere --can express their affection on Valentine's Day, or any other day.
mylanguage and Phrasebooks with sample phrases are available in the Apple App Store and Android Marketplace. Phrasebooks app supports 15 languages with a sampling of phrases available for free and in-app purchase for the full phrasebooks.
myLanguage Pro includes instant text translation and text to sound in more than 20 languages and 40 dialects and is available for only $4.99, and phrasebooks may be purchased for $2.99 per language.
About myLanguage, Inc.
myLanguage is the fastest-growing app-based language translation and learning community. Approaching one million downloads and 7.7 million unique translations provided to date, myLanguage is changing language translation and learning with applications that are fun, engaging and practical. Learn more about myLanguage Phrasebooks and myLanguage Translator at http://www.myLanguage.me
MyLanguage is a registered trademark of myLanguage, Inc. myLanguage Phrasebooks, myLanguage Translator, the myLanguage logo are trademarks of myLanguage, Inc.
Apple, iPod, iPhone, iTunes and the Apple App store are trademarks or registered trademarks of Apple Corporation.
Contact:
Hal Bringman
NVPR
hal(at)nvpr(dot)com
+1.323.851.6877
+1.310.210.8011 (m)
Skype: halbringman
# # #