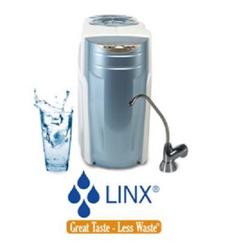 After 35 years of stagnation, the drinking water industry takes a giant technological leap forward.
San Carlos, CA (PRWEB) February 14, 2011
Pionetics Corporation announces today that Nicholas C. Memmo, CEO of Rayne® Water Corporation, will deliver a Keynote Address on February 16, at Water Tech Week 2011; and the subject of the speech will be the Rayne Evolution with LINX Technology.
The title of the Keynote is, "Innovation Comes to the Water Treatment Industry – After 35 Years of Stagnation, the Drinking Water Industry Takes a Giant Technological Leap Forward."
"When I was asked to speak at Water Tech Week 2011, I knew immediately that my Keynote Address had to be about the LINX Technology," said Mr. Memmo. He continues, "Rayne has been selling this technology under the product name Rayne Evolution for a year. The response has been overwhelmingly positive and our Dealers are immensely proud to be able to offer their customers a drinking water system that is truly leaps and bounds more advanced than any other system on the market. This Keynote Address is my opportunity to share this technology with other industry leaders."
"We are thrilled by Rayne's recognition of LINX's advancement in technology and by Rayne's commitment to the product." said H. Martin Jessen, Vice President of Pionetics Corporation. Jessen continues, "Being in partnership with Rayne has been very rewarding. Rayne has been providing water treatment solutions to residential and commercial customers since 1928, and we are delighted to partner with such a long standing and reputable company. Rayne epitomizes the exact traits we are looking for in business partners – a company whose objective it is to provide the latest technology while protecting the environment."
LINX Evolution Drinking Water Systems are offered as an Under-the-Sink model or as Bottleless Water Cooler. They offer three important and unique features not offered by any other drinking water system:

Significantly less water waste than Reverse Osmosis (RO) – see the video LINX vs. RO,
Operates using programmable software and display indicator lights that provide the consumer with detailed system status, and
Dial-A-Taste® Control that allows the consumer to customize the taste of their drinking water for more or less mineral content.
This video demonstrates how the LINX Water Cooler compares to other coolers, reducing water waste, petroleum usage, and effort, while increasing office space and cost savings.
LINX units are rented and sold under private labeling. Two of the strongest brands are the Culligan Innovation sold in Italy and the Rayne Evolution. Pionetics expects more private label branding in the future. Pionetics is currently signing new distributors. Anyone interested in becoming a distributor anywhere around the world – should contact H. Martin Jessen at 480-836-0887.
Pionetics is an innovative water technology company that develops smart water treatment products that produce great tasting, safe drinking water with less wastewater than traditional water treatment systems. Pionetics is privately owned and financially backed by Kline Hawkes & Co, NGEN Partners, and Unilever Technology Ventures Fund.
Pionetics is located in San Carlos, CA. To date, Pionetics has been issued over 50 patents worldwide to protect its proprietary know-how and innovative technology.
# # #