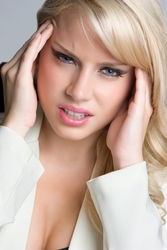 Many headache patients feel they have no where to turn and are not aware of the many drug-less treatment options for headaches
San Francisco, CA (PRWEB) February 14, 2011
Dr. Eben Davis, a former migraine headache sufferer himself, and his team of San Francisco Chiropractors will be offering Complimentary Neck Pain and Headache Examinations with Consultations at Executive Express Chiropractic in the SF Financial District.
Headache Awareness Week begins on Valentines Day, February 14th and runs through Saturday, February 19th.
When it comes to the rate of chronic headaches in America, studies have shown that roughly 45 million Americans suffer from them per year. There is an average of 20 million females in America that experience chronic headaches and an average of 25 million males. This represents a prevalence of chronic headaches that is roughly 1 out of every six people. Percentage-wise, 6.54 percent of all Americans experience the agony of a chronic headache condition.
"Many headache patients feel they have no where to turn and are not aware of the many drug-less treatment options for headaches" says Dr. Davis. "And unfortunately for many…their doctors can't figure out how to help them".
Whether it be tension headaches, migraine headaches, cluster headaches, or many of the other common headaches millions suffer from, there are often times drug-less solutions available that make more sense than medications or surgery.
Many people suffer with chronic headaches, which are headaches that last for over 3 months. Or migraine headaches which can interfere with normal daily activities and work schedules. Says Dr. Davis "Some of the patients we see for headache treatment in San Francisco have been suffering their entire lives with headaches. Some just live with the pain, and others take medications that alter their mood and performance. We want to help, which is why we are having this promotion".
To schedule a complimentary Neck Pain or Headaches Assessment at Executive Express Chiropractic please call 415-392-2225, ext 1 between 9-6pm M-F, and 9-1 on Saturday. Mention "Headache Awareness Week".
# # #