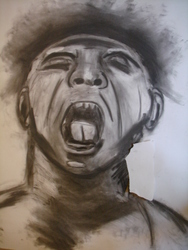 (PRWeb UK) February 15, 2011
Benjamin Davies New drawings and paintings 14th March- 19th March 2011
Press Release:
Benjamin Davies b. Shrewsbury 1985
Benjamin Davies was born in Shrewsbury in 1985 his teenage years were busily engaged in music and art. His early enthusiasms soon spurred a direction to drawing and painting. His current work aims to capture the feeling of mood and situation. He has been influenced the the artist's Picasso, Bacon, Freud and Dumas.
Dark and distressed emotions are the main focus of Benjamin's work. With the Portraits and head studies emerging powerful expressions aimed straight at the viewer.
Many of the compositions of the figures and poses make reference to classic but troubled portraiture. Benjamin's intimate paintings and drawings are inspired by moods and feelings of everyday life and to trigger a response from the viewer.
The portraits and figures portrayemotions that has been worked into the canvas/ paper building up a complex and troubled work.
This is Benjamin's third solo show in London following two previous successful solo shows and a feature in Art in London Summer issue 2010.
All the original artwork for the show is available to view at the gallery Soho from Monday 14th March 6pm at the RSVP private view and the exhibition will run for 1 week from this date.
Work is available to purchase prior to the show and a images and pricelist will be e mailed out upon request.
Benjamin's website features an online gallery of works, exhibition info and contact details. For further information including press enquiries and high resolution images please use the following details:-
Website:-http://www.benjamindaviesart.com
E mail:-benjamindaviesart(at)yahoo(dot)co(dot)uk
Phone:- 07816432376
Gallery E mail:-rene(at)thegallerysoho(dot)com
###