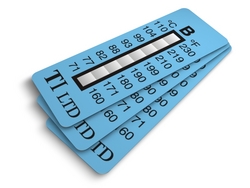 Simply the easiest and safest way to monitor temperature at home or in the workplace. These temperature indicator labels are easy to use, reliable and accurate.
(PRWeb UK) February 15, 2011
Temperature Indicators Limited has launched a new product range of glass-less and mercury free thermometers for use in the home and workplace. These temperature labels and cards are far safer than traditional glass thermometers and can be used to monitor room temperature, bath water temperature and even the temperatures inside your refrigerator.
These temperature indicators and thermometer labels are ideal for environments where safety is a concern but accurate measurement is required.
The new bath thermometer card can be dipped in a baby's bathwater to check the temperature is neither too cold nor too hot. A room thermometer can be used to ensure that heating is set at the right level, maintaining comfort levels whilst optimising energy usage. Temperature Indicator's forehead thermometer can be used to quickly and easily check a child's skin temperature without using a traditional glass thermometer in the mouth.
Refrigerator thermometers, again containing no glass, can be used to check fridge temperatures, making sure food is stored at suitable temperatures to maintain freshness and help keep it safer.
As well as thermometer labels that change as temperatures rise and fall, Temperature Indicators Ltd sells a very comprehensive range of irreversible temperature indicator labels and strips that give a permanent colour change and can be used to demonstrate maximum temperature achievement and / or temperature abuse. Temperature Indicators also stocks the 3M Freeze Watch, an irreversible temperature sensitive label that shows when items have been subjected to freezing temperatures in transit. The Chillchecker product offers a range of refrigeration indicating labels that will show when refrigerated or frozen items have been exposed to higher temperatures, allowing users to demonstrate temperature abuse of food or pharmaceutical supplies.
Temperature Indicators supplies safe thermometer labels and cards for use in the home and workplace which are manufactured in the UK to recognised and monitored ISO standards to ensure that every product is an accurate, reliable and safe means of monitoring temperature. They contain no glass and no mercury. All the temperature label products are very easy to use, give a fast and easily visible colour change reaction and help maintain safety.
A large range of temperature sensitive products are stocked permanently and can be shipped internationally using carefully selected, well-established courier companies like Federal Express to ensure a high standard is maintained for deliveries whilst keeping prices competitive. Reduced shipping costs to the UK, Europe and US have recently been introduced and Temperature Indicators can usually deliver any temperature indicating label, strip or card within 2 to 3 working days to these locations. 99% of the items on sale are in stock and available to ship within 24 hours. We have 25 years experience of shipping our products all over the world – for further information please email.
One thing that the sales staff at Temperature Indicators have learnt over time is that every application for temperature sensitive labels is unique. It sometimes feels like the thermometer labels and tags supplied by Temperature Indicators are used in literally every industry, such as food safety and production, military applications, vehicle manufacture and home and workplace safety. The sales team pride themselves on the ability to advise customers on the best way to use the temperature label products but also on any possible limitations – meaning customers don't end up buying something that doesn't meet their needs exactly. Comprehensive product information accompanies every temperature indicator label and thermometer listed on the Temperature Indicators website, with News and Education pages providing details of interesting applications, new product development, case studies and technical data to support the entire range of thermometer labels.
Prices are kept very competitive, minimum order quantities are very small and bulk discounts are available for large volume orders and resellers.
Check out the products online at http://www.temperature-indicators.co.uk.
# # #