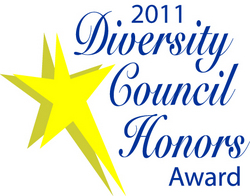 Janice E. Bowman, Practice Leader of the Association of Diversity Councils says, "This year's recipient list includes 10 new councils and 15 returning councils. Of those 15 councils, 11 moved up in the rankings.
Sanford, FL (PRWEB) February 16, 2011
The Association of Diversity Councils, a practice group of diversity consulting and training firm PRISM International, Inc., released the list of the Top 25 U.S. diversity councils to be recognized and honored and their rankings revealed at the 2011 Diversity Council Honors Award Dinner & Ceremony April 5th at the Embassy Suites Buckhead in Atlanta. They will also be recognized by INSIGHT Into Diversity magazine, a nationally distributed diversity publication read by over half a million monthly.
This is the third year that the Association of Diversity Councils will award its prestigious Diversity Council Honors Award™ designed to honor the outstanding contributions and achievements of diversity council groups that lead diversity processes in organizations and demonstrate results in their Workforce, Workplace and Marketplace. A panel of independent judges evaluated applications submitted by council groups that have been in operation for at least two (2) years.
Applicants were evaluated on contributions and achievements in four categories: Demonstrated Council Results; Demonstrated Management Commitment; Measurement and Accountability; Communication and Education.
The 2011 Top 25 award recipients include a diverse combination of U.S. corporations, federal governmental agencies and higher education institutions representing all sectors, geographies and organizational sizes. The 2011 Top 25 Diversity Council Honors Award™ recipients include (in alphabetical order):

Ameren Corporation
American Airlines
AXA Equitable
Best Buy Co., Inc.
Boehringer Ingelheim, USA
Cargill
Comcast Corporation
CSX
Diageo North America
FedEx Freight Diversity Council
Harland Clarke
Hyatt Hotels Corporation
Johns Hopkins Bayview Medical Center
MGM Grand Hotel & Casino
Navy Diversity Directorate Strategic Diversity Working Group (SDWG)
Oakwood Healthcare System
Pfizer Animal Health
Prudential Financial
Siemens Energy, Inc.
The Boeing Company - Engineering, Operations & Technology
The McGraw-Hill Companies
The University of Akron
WellPoint, Inc.
Wells Fargo Barnhart Diversity Council
Wipro Limited
All applicants and reception attendees will receive a copy of the 2011 Report of Survey Findings and Innovative Operating Practices compiled from the Top 25 councils' applications.
###