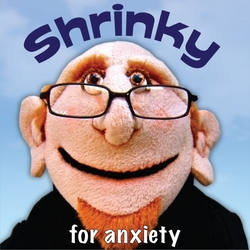 Shrinky can help consumers suffering with anxiety who are looking for a fast-working and economical alternative to psychotherapy.
New York (PRWEB) February 17, 2011
Berger Enterprises today announced the availability on the App Store of its first "Shrinky" application for the iPhone and iPod touch. Dubbed Shrinky for Anxiety, this initial program kicks off a series of mobile apps that provide a simple method for immediate emotional relief and managing relationships.
The name "Shrinky" derives from the application's narrator and mascot, a comforting, disarming, and credible Muppet-like figure that visually guides users through a series of scientific, therapy-based techniques that go beyond the mere meditation or visualization methods used by currently available products.
"We designed Shrinky for Anxiety to save consumers time and money by providing fast emotional relief at a cost of $2.99 with unlimited access, rather than $5,000 or more per year for weekly in-person counseling," said Glenn Berger, PhD, LCSW, and president of Berger Enterprises. "It's like a portable psychologist you can take to the airport, the office, a speaking engagement -- anywhere you might need immediate support.
"And it's easy: in a few simple steps you can feel better, without anyone else knowing," he continued. "Best of all, results actually improve over time, and the techniques used can replace costly prescriptions and their side effects for many people."
While the Shrinky application announced today addresses feelings of anxiety, future versions will fill out an emotional toolbox for helping manage other difficult emotions, like anger and depression. All apps in the series are designed to turn a mobile device into a wise, warm, and helpful counselor.
"Shrinky provides psychotherapy when and where you need it most," said Berger. "It's therapy to go. Face-to-face interaction with a human counselor is still an ideal approach, but Shrinky can help bridge the gap for those suffering from anxiety who are looking for a fast-working and economical alternative to conventional therapy," he added.
Shrinky is available on the App Store.
About Berger Enterprises
Berger Enterprises is a privately held company that seeks to make the world better by creating diverse, innovative products that advance the development and liberation of the human spirit. The company's mission is helping people leverage their optimum potential to gain individual fulfillment, relationship harmony, successful partnerships, happier children, cultural and social growth, and greater cooperation and peace for humankind. You can learn more about Shrinky at http://shrinky.net.
Apple, the Apple logo, iPhone and iPod touch are trademarks of Apple Inc., registered in the U.S. and other countries. App Store is a service mark of Apple Inc.
###