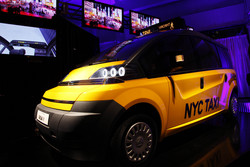 New York (PRWEB) February 14, 2011
The Taxi of Tomorrow proposal by auto manufacturer Karsan emerged as the clear and convincing favorite among the more than 22,000 men and women who participated in a recent survey conducted by the New York City Taxi & Limousine Commission.
When asked their opinion on the taxi designs of the three finalists in the Taxi of Tomorrow competition, 65.5 percent of the respondents expressed a favorable view of the Karsan V1 taxi, compared to just 38 percent for the Ford design and 42.4 percent for the Nissan (full survey results here: http://www.nyc.gov/html/tlc/downloads/pdf/tot_survey_results_02_10_11.pdf).
Even more impressively, 38.9 percent of those who took the survey said that they LOVE the Karsan V1 design, compared to just 14.6 percent for the Ford and 11.7 percent for Nissan.
A number of unique features offered only by Karsan also scored well on the City's official taxi survey. More than half of the respondents (50.9 percent) said that a "sunroof for better views of the city" was an important feature for the Taxi of Tomorrow. Of the three finalists, only Karsan has designed a taxi to include a panoramic glass roof, offering spectacular views of the City's iconic skyline and landmarks.
In addition, an overwhelming 86.4 percent of the survey respondents said it is important that the Taxi of Tomorrow have the "ability to carry four passengers seated in the same compartment." Karsan has designed its taxi with enough room to allow for four passengers to sit comfortably, in individual seats, in the main passenger compartment. The entries from both Ford and Nissan require the fourth passenger to sit up front with the driver, as is typical in New York's current fleet of taxis.
While the TLC survey did not ask for specific views on the importance of accessibility, other surveys, public hearings and the TLC's original request for taxi proposals have demonstrated that this is an important element. Of the three finalists, only the Karsan V1 would allow New York City to become the world's first city with a fleet that is 100 percent accessible and compliant with the historic Americans with Disabilities Act (ADA).
Karsan executives said, "We are proud to enjoy such tremendous support from New Yorkers for our Taxi of Tomorrow proposal. We at Karsan recognized that this is the most important auto competition going on in the world and assembled our best team of engineers and designers to create a taxi that specifically meets the needs of New York City and its taxi-riding public. Our design incorporates every attribute deemed important to New Yorkers, including an ability to accommodate advances in environmental technology and provide the highest standards of passenger comfort. New Yorkers agree that Karsan's Taxi of Tomorrow will restore the New York City taxi to its rightful place as a world icon, much as it was in the glory days of New York's Checker Cabs. The Karsan taxi is all about comfort, access, sustainability and durability. This is what New Yorkers want, and this is what Karsan delivers."
The City's official survey mirrors the results of similar surveys. A recent online survey conducted by the New York Daily News found that 75 percent of respondents preferred the Karsan V1 over Ford and Nissan, while a Crain's New York Business online survey gave Karsan the edge at 52 percent, compared to 22 percent for Ford and 20 percent for Nissan. More than two-thirds of respondents prefer Karsan in an ongoing poll on the independent TaxiofTomorrow.com website.
After analyzing New York City's request for its Taxi of Tomorrow, Karsan concluded that the only feasible way to meet the City's rigorous technical requirements was with a purpose-built vehicle specially designed to be a taxi, rather than by retrofitting an existing regular production model sedan or van to adapt to taxi needs. No auto manufacturer in the world is currently producing custom-designed taxis, as Checker once did.
The company that receives the Taxi of Tomorrow bid will have exclusive selling rights to the New York City taxi market for a ten year period, an estimated 2,650 vehicles per year.
Karsan, founded in 1966, brings over 40 years of experience as an international multi-branded commercial vehicle producer, providing services to the world's leading brands such as Peugeot, Citroen, Renault Trucks and Hyundai.
###