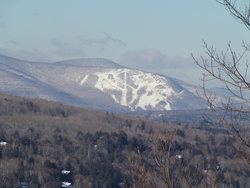 Greene County, NY (PRWEB) February 15, 2011
The Northern Catskill Mountains celebrate winter all season long at family friendly ski resorts that offer value and excitement just two hours from New York City.
Distinctive themed weekend activities and entertainment featured at top Catskill Mountain ski resorts include Catskill area events such as:

The "Irish I Was Skiing Festival" March 12-13, celebrates the region's rich Irish history - with a twist. Watch out for the leprechaun skiing around the mountain, giving out prizes. A bag pipe performance, Guinness drink specials and more make this is one spring skiing weekend not to miss.
Presidents Weekend celebration February 19-25. Fireworks and a torchlight parade commemorate the weekend, and highly anticipated performances by Third Rail and Gravity wrap up the party. Lodging packages start midweek at $89 per person, per night.
Recently touted as New York's most accessible resort by Ski Magazine, Windham Mountain Ski Center celebrates its 50th Anniversary this year. Families or couples can take advantage of Windham Mountain's family lodging packages with special midweek and weekend ski packages starting at $80 per person.
Just north of Windham Mountain sits family - and black diamond - friendly Hunter Mountain. In 2010, Hunter Mountain celebrated its 50th Anniversary with a face-lift, improving infrastructure by upgrading to new energy-efficient snow guns and adding a six-pack chairlift capable of traveling 1,000 feet per minute.
Greene County Tourism and 13 of its premier Catskill area attractions are now offering a free Greene Card, good for lift ticket discount and special deals at Catskill mountain attractions throughout 2011.
Greene Card holders receive special deals at Catskill ski resorts Hunter and Windham, both offering a "buy one, get one free" mid-week lift ticket deal. At Hunter, the card's can also be applied to New York Zipline Adventure Tours passes. This card offers value to families, couples or solo travelers looking to repeat their Great Northern Catskill adventure experience. Sign up for your Greene Card at http://www.greenetourism.com/greene-card.
About Greene County:
Greene County is located in the Great Northern Catskill Mountains and the verdant Hudson River Valley. The region is home to five of the 10 highest Catskill Peaks and the Catskill State Park. Greene County is renowned as the home of Thomas Cole's Hudson River School and the inspiration for Washington Irving's literary legend, Rip Van Winkle, and was named in honor of American Revolutionary War General Nathanael Greene. This 286,000 acre wilderness offers abundant year-round outdoor recreation and unique cultural events. Learn more about winter events and skiing vacation packages at http://www.greenetourism.com/.
###