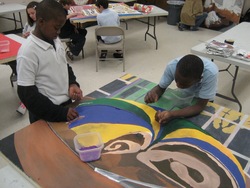 Every year, over 2,000 tons of Mardi Gras Beads become landfill and Stephan Wanger is showing local students how to make serious art out of recycled Mardi Gras beads
Metairie, LA (PRWEB) February 16, 2011
Rudolph Matas Elementary School's Arts Facilitator Ms. Tama Distler, together with New Orleans mosaic artist Mr. Stephán Wanger, are teaching Matas students the art of bead mosaic work to meet the school's curricular goals for the arts, and to extend lessons in Mathematics, Environmental Conservation, Louisiana Culture and Pop Art. In order to do so, last October the school initiated an enormous bead drive enabling the students to amass over 2,200 pounds of Mardi Gras beads. By the end of the school year (late May 2011), the results will be visible in the form of 12 finished art works depicting food items such as Beignets, Red Beans and Rice, a King Cake and many others.
"A generous grant from the Target Foundation triggered me to contact Mr. Wanger," said Ms. Distler, "and after a few meetings we realized that there would be enormous potential for our students to teach others about Louisiana's culinary treasures while learning about the art of creating mosaics using Mardi Gras beads. The project grew so much larger because we realized that through these works, we would be able to inspire future students to continue to seek out recycled materials for the creation of art."
Mr. Wanger mainly uses recycled materials and channels his creative energy into assembling dazzling mosaics using Mardi Gras beads. Working in a photo-realistic style, he re-creates scenes, images, and icons of Louisiana to help bring awareness to the world of the innate beauty of the state's unique culture and varied communities. His exhibit is called "A Million Greetings From New Orleans."
Matas Elementary School has an Arts Integration curriculum to enhance the learning experience for those students who want more, and to provide differentiated paths of learning for those students who need more. The schools' principal Ms. Pat Helmstetter points out, "many students have come to Matas never having experienced art before. These large pieces have made a tremendous impression upon on our students, faculty, staff, and community. I am delighted that they will continue to inspire Matas student for years to come."
The 12 works that are being created depict: Red Beans and Rice, Raw Oysters, Crawfish Boil, a Po-Boy, a Hubig's Pie, Tabasco, Beignets and Café Au Lait, Barq's Root Beer, Zapp's Potato Chips, a King Cake, a Muffuletta, and Tony' Chachere's. The finished works will go on display in a public space with a grand opening event some time in May or June of 2011.
For more information please contact Ms. Tama Distler at (504) 484-8082, or Stephán Wanger at (504) 400-4603.
###