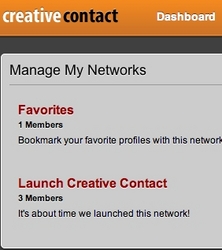 Creative Contact addresses a key skill critical to artists – person-to-person networking.
Harvard, MA (PRWEB) February 16, 2011
On February 11, 2011, Creative Contact launched a new web site (http://www.creativecontact.com) that gives artists the tools to become an artist entrepreneur. Using a simple interface, artists can build flexible and private personal networks that can help them promote their work, build their career and develop collaborative projects.
The United States Department of Labor, Bureau of Labor Statistics estimates that 60% of artists are currently self-employed. Many of these artists have never been trained, nor do they have any experience, in the basic business skills that would allow them to support themselves through self-employment. Creative Contact addresses a key skill critical to artists – person-to-person networking.
Most entrepreneurs recognize the importance of person-to-person networking in self-promotion, developing ideas and starting new projects. Many artists however, are uncomfortable with building the kind of connections that can help them practice their art and make a living. Creative Contact makes these basic entrepreneurial tools available to artists in a format that is easy to use. After setting up a Profile and Portfolio, the artist can access other Creative Contact members and invite them into private networks. By building a Profile and Portfolio, the artist is also available to be included in the networks of other Creative Contact members.
This flexibility allows the individual artist to connect with the people that will be the most helpful to them in an easy and non-intimidating way. Creative Contact offers the perfect method for finding mentors, developing business ideas, building an audience, developing career goals and interesting others in collaborative projects.
Creative Contact LLC is a privately funded project developed to create internet based tools to support artists.
###