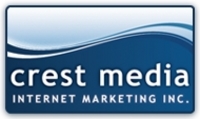 Glendora, CA (PRWEB) February 16, 2011
Crest Media, Inc, an internet marketing company, announced its service base expansion to include Austin, Texas. Previously, the organization served in Los Angeles, Orange County and San Diego. Crest Media extended its area of operation with the aim of facilitating larger number of people and corporate houses seeking quality web marketing services and expanding its clientele.
Crest Media offers an array of services including website designing, Pay Per Click (PPC), online video production, social media marketing, and SEO in Austin, Tx. Email marketing, reputation management and interactive marketing are also some of the other services in its inventory. From researching keywords and building relevant links, to determining target market and designing emails, to conducting directory submission and copywriting - Crest Media does it all to help businesses attain a competitive edge!
This internet marketing company offers the entire range of services across varied industries. Crest Media boasts of having worked for Penny Bail Bonds, a leading statewide service provider of bail bonds, Joe's Auto Center, Stuart Rogers' Acting Studio and Susan Nelson Art Gallery. Some of the other well-known names in the service provider's list include YB Clinic, Ben Childers, M.D., 24 Hour Bath and David Miller for Congress.
Stuart Rogers of the Stuart Rogers Acting Studios said, "Before I worked with Crest Media, my Google ranking was not in the top 200. Now I am in the top 10". Extolling Crest Media for its quality service, Ben J Childers, M.D. from the Riverside Plastic Surgery Associates said, "Crest Media Has made a big difference in my website traffic...I have gone from zero exposure…and no hits…to…receiving weekly inquiries of my services…and being found on Google."
About Crest Media, Inc: Mike, the CEO of Crest Media, once worked for a marketing agency whose inferior products and shoddy customer treatment motivated him to start a company which would value clients and hold business ethics in high regard. Thus, he founded Crest Media, Inc which remains focused on quality customer service at reasonable prices. All websites developed by Crest Media are custom-built, functional and aesthetically pleasing.
###