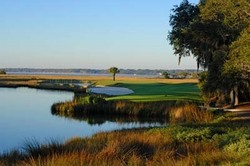 The Heritage displays the best the Lowcountry has to offer for one 'plaidtastic' week. Year-round benefits are felt by the people who make this tournament happen. Plaid is the fabric of our community." Sir William "Willie" Innes on Community.
Hilton Head Island, SC (PRWEB) February 16, 2011
Get up, get ready, get driving, and get your plaid on again this year, because the PGA's Hilton Head Island annual Heritage, held April 18th – 24th, is proud to be hosted and sponsored by the very people who have supported it each year since its inception in 1969; the communities of Hilton Head Island, Beaufort County, and the Heritage Classic Foundation, itself. After an arduous search for a new major sponsor during a national economic downswing, and speculation about the future of this long-standing South Carolina sporting tradition, it is appropriate that it would be buoyed up by its own community of galvanized small business owners, returning vacationers, sports enthusiasts, retirees, and year-round residents.
Shedding a corporate moniker for its own stand-alone title is a fitting testament to the strength of the community support for the Lowcountry's answer to Derby Day. "We're different from anyone on tour because our community-directed support has led to local and state sponsorship, and a huge outpouring of praise for an event that has long signaled the beginning of the season, unique to the economy of South Carolina's coastal communities," says tournament director, Steve Wilmot.
Hilton Head Island, has been known as a top vacation destination for families due to, among other things, the many outdoor activities available, great year-round weather, and a green-consciousness that began in its early years of development, long before the notion of preserving the environment was concerning to the public.
"It has been an honor to be a part of this annual event through the years," says Bob Hawkins, partner, The Vacation Company, a Hilton Head vacation rental agency that has been one of the tournament's primary providers of accommodations to players, sponsors, and guests. "We have had the pleasure of enjoying the Heritage from all perspectives; as patrons and as sponsors, and we look forward to many more years of this island family tradition."
The Vacation Company is a rental agency committed to providing top-quality service and accommodations to island visitors and property owners. With over 20 years experience in managing Hilton Head Island luxury home and villa rentals, The Vacation Company continues its own tradition of supporting The Heritage, recognizing the PGA event as the island's seasonal springboard into the summer vacation rental season.
###