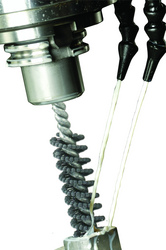 Los Angeles, CA (PRWEB) February 15, 2011
Brush Research Manufacturing has introduced a new line of specialty Flex-Hones designed for chamfer blending when a smooth through-hole is a crucial requirement. This new line, The Flex-Hone® for Chamfer Blending, is a surface finishing tool designed to blend and radius sharp edges and remove microburrs on chamfered holes to eliminate stress risers caused by the chamfering operation.
Many applications in the aerospace, automotive, semiconductor and medical sectors today require cutting of fastener through-holes in titanium, inconel, super CVM and nickel based stainless steel alloys. To ensure a flawless fit and durability, fastener through-holes are chamfered and must be free of metal burrs from the hole cutting process.
The Flex-Hone from Brush Research Manufacturing is characterized by the small, abrasive globules that are permanently mounted to flexible filaments. As a flexible, relatively low-cost surface finishing tool, the cylinder hone is utilized in the manufacturing marketplace for ultra-fine surface finishing, plateau finishing, edge-blending and as a deburring tool.
A standard Flex-Hone tool is a very effective deburring tool on the interior corners (the intersection of the chamfer & the hole wall). However, the new Flex-Hone for Chamfer Blending is more flexible and designed to polish and radius the outer corners (the intersection of the chamfer and flange face) as well as the inner corners and hole. The increased flexibility allows the surface finishing tool to pass through thin web sections and polish the chamfer on the back side as well.
For many manufacturers, a primary goal is the avoidance of costly and time-consuming hand benching operations, where components are taken offline from CNC operations so that chamfered holes can be finished by hand.
The Flex-Hone for Chamfer Blending eliminates hand finishing operations and produces consistent finishes from hole to hole, part to part. Available in a variety of grit sizes and abrasive types this surface finishing tool is suitable for titanium, inconel, super CVM and nickel based stainless steel alloys.
###