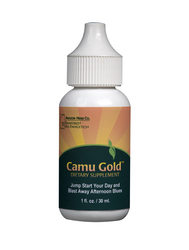 Imagine waking up in the morning and instead of reaching for a coffee, an energy soda or, one of those energy shots – you reach for a different one ounce bottle that is half the price.
Jupiter, FL (PRWEB) February 15, 2011
In light of the new report by University of Miami experts in the March issue of Journal Pediatrics warning consumers that caffeine-containing energy drinks may harm the health of children, Camu Gold™ featuring the power of the Camu Camu fruit, is the perfect organic alternative for consumers seeking a natural boost of energy. With its rich nutritional profile and unrivaled vitamin C content, the Camu Camu fruit, which grows in the nutrient rich Amazon floodplains, is receiving international recognition by doctors, scientists and the media as a fruit with extraordinary health benefits - a fact Amazon Herb Company founder "Amazon John" Easterling has known for years.
"Our Camu Camu trees are organically grown in the nutrient-rich biomass of the world's richest living ecosystem for about four months of the year, in the rich floodplains of the Amazon Rainforest," explains Easterling. "From this soil, the Camu Camu trees are able to pull the minerals they need to produce a natural density of vital micronutrients not available from any other source."
The Camu Camu fruit is one of the world's greatest nutritional powerhouses. It contains thirty times more vitamin C than an orange, along with ten times as much iron, three times as much niacin, twice as much riboflavin and fifty percent more phosphorus. It's also a significant source of potassium, ellagic acid, and essential amino acids, along with over a dozen other bioflavonoids. The fruit's wide spectrum of micronutrients creates a uniquely synergistic effect, which is the reason Camu Camu has known as the Amazon 'feel-good' fruit.
These health benefits of Camu Camu have inspired Amazon Herb Company to sustainably harvest this fruit and make it the centerpiece of some of their key products from the LluviaTM Skin Care line to the organic juice blend Zamu, to their latest discovery, Camu GoldTM.
As the newest Camu-based product, Camu GoldTM is a Camu-concentrate nicknamed "Liquid Sunshine" because of its immediate wave of smooth, natural energy and its ability to fortify a healthy immune system. In addition, it contains vital micronutrients that may add years to your life allowing you to live longer and look better and, it offers the daily nutrition you need for healthy skin, hair and nails. And, in these tough economic times and unhealthy "energy shots," Camu Gold TM is caffeine free, Earth-friendly and, less expensive than the synthetic energy substitutes.
"Imagine waking up in the morning and instead of reaching for a coffee, an energy soda or, one of those energy shots – you reach for a different one ounce bottle that is half the price," says Easterling. "Camu Gold TM tastes a bit like sour candy but just a few drops will deliver all the energy you need to start your day or keep it running smooth."
You'll feel the impact of Camu Gold™'s organic Camu Camu concentrate as quickly as you'd feel caffeine, but in a much different way. Instead of starting with a jarring rush that tapers off into an eventual crash, Camu Gold™ offers a smooth wave of natural energy that lasts for hours. You won't be bouncing off the walls, it's a calm centered energy like nothing you have ever experienced.
Also, as cold and flu season approaches, Camu Gold™ is a natural way to combat this tough time of the year. With each dose of natural vitamins, minerals and compounds in a few drops of Camu Gold™, your immune system gets everything it needs to ward off infections, prevent colds and flus, and help make each day a little bit healthier. These are just some of the extraordinary natural benefits of Camu Gold™.
It's been over six years since the Amazon Herb Company pioneered the health benefits and power of Camu Camu and took the first steps towards becoming the "Camu Camu Company" when they introduced Camu Camu to the consumer with the Camu C-SerumTM - a powerful, organic, anti-aging skin treatment. By combining the fruit with other key Rainforest botanicals Camu C-SerumTM is able to protect the skin from free radicals and reduce the appearance of fine lines and wrinkles.
Continuing to explore the health benefits of the Camu Camu fruit, the Amazon Herb Company's best selling product is another Camu Camu-based, certified organic Rainforest juice blend called ZAMUTM. Mixed with other sustainably-harvested Rainforest juices and potent botanicals, ZAMUTM is formulated to do for the body and the mind what Camu C-SerumTM does for the skin. The fruit's rich nutritional profile and proven anti-inflammatory effects have a wide range of benefits for the human body, from supporting healthy immune and cardiovascular function to alleviating joint discomfort*.
With these three Camu Camu-based products, it is clear why Amazon Herb Company and "Amazon John" Easterling are the trendsetters leading consumers to a whole new level of health and wellness – becoming the ultimate "Camu Company." For additional information visit http://www.CamuGold.com.
###