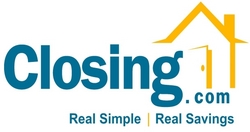 "Closing.com will enable Wise Agent subscribers to further simplify and streamline their operation and better manage the closing process."
San Diego, CA (PRWEB) February 16, 2011
Closing.com, the most comprehensive one-stop-shop for real estate closing services on the Web, today announced an affiliation agreement with Wise Agent, a world-class online organizer and virtual office for real estate agents. Under the terms of the agreement, Closing.com will license its closing cost data to WiseAgent.com for use by its subscribing agents.
Closing.com enables agents to estimate their clients' monthly payments (including mortgage, homeowner's insurance and property taxes), closing costs (including title insurance, settlement services, local property taxes, and transfer and recording fees), and the total amount of cash needed at closing. Closing.com's proprietary technology provides live rates and automatically determines which party in a transaction is responsible for certain costs based on local customs and practices.
In addition to calculating closing costs, agents will be able to create buyer cost estimates and seller net sheets, comparison shop for vendors near a property, select vendors in more than 30 service categories or customize instant buyer/seller net sheets with their preferred vendors, and print or save the net sheet as a PDF and e-mail it to their client—all from their Wise Agent account.
"Closing.com will enable Wise Agent subscribers to further simplify and streamline their operation and better manage the closing process for their clients. Our customization tool gives them the flexibility to use their preferred providers or choose from among Closing.com's robust database of premium providers," said Julie Han, Closing.com's VP, Business Development.
"With the integration of Closing.com data, we're able to help our agents save time comparing vendors and calculate closing costs on a transaction early in the process so their clients can move forward with confidence that there will be no surprises at closing. This allows them to give added value to their clients as well as peace of mind," said Wise Agent founder and owner Brandon Wise.
To view the training video describing the integration, click here.
About ClosingCorp
ClosingCorp, the parent company of Closing.com, is an independent data provider and leading online destination for professionals and consumers to shop for real estate services and calculate closing costs. The company has built the most comprehensive, reliable and accurate source for real estate closing services and rates on the Web. Company-owned sites and services include Closing.com, SmartGFE.com, and the SmartClosing Mortgage Calculator. The company is based in La Jolla, Calif. To learn more about Closing.com, visit closingcorp.com or call 1-866-CLOSING (256-7464).
About Wise Agent
Wise Agent provides a professional, private, and secure web workplace for real estate agents, with 24/7 access from anywhere in the world. Features of the service include transaction management, marketing tools, contact and time management tools, unlimited document storage, lead tracking, free training and support—all from one secure web portal. Wise Agent seamlessly connects technology, people, and business practices to increase productivity and organization, enabling members to give full service to their clients and build long term relationships.
# # #